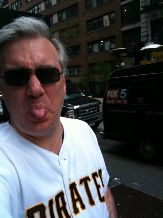 Last Wednesday Keith Olbermann left one of the new media platforms he has frequented – blogging at the Daily Kos.
Well rejoice, liberal blogosphere! He made his triumphant return this afternoon in the "full flower of the pomposity that always strikes me at midday."
Tommy Christopher predicted this over the weekend – a very quick return. In a post titled "So, uh, this looks like a nice site" one of the leading liberal voices was back in the mix at Kos:
Needless to say, the overwhelming number of comments to my last diary divided into agreement with support, disagreement with support, or anger/frustration/namecalling – still with support. I did not write what I wrote to provoke a reaction but if I had, that would have been the spectrum I would have hoped for.
There's something in there about "in the full flower of the pomposity that always strikes me at midday," and how this feeling is "metaphorical for progressives and other centrists," but really you'll just have to read it to get the full flavor of the return.
Meanwhile, the reason for his departure can be traced to his initial, strong, negative reaction to Obama's address last week, and in discussing these turn of events, he revealed an interesting bit of information:
I haven't been in contact with anybody there since my comments on the President's speech, but I sure as hell was in contact with them after every single one of the criticisms I mentioned above. Nobody ever called me up to complain. Nobody ever called me up to dissuade. Nobody schmoozed me, and nobody threatened me. They seem to assume it comes with the job. And they correctly assume that if I'm critical of them, they're entitled to be critical of my criticism
So he was in contact with the White House every time he criticized the administration? It's a nice position to be in as a cable news host – with incredible access to air out your concerns directly to the top. But is it too close?
Olbermann closes his diary entry with a joke (that surely will have the Olbermann haters taking seriously and going all 'I told you so'): "I'll have to stop writing all those fake I-Hate-Olbermann diaries under aliases to drum up sympathy."
—–
» Follow Steve Krakauer on Twitter
Have a tip we should know? tips@mediaite.com