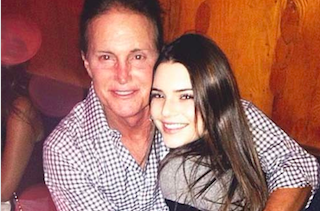 Us Weekly has published an "exclusive" interview with reality star Kendall Jenner in which she offers unwavering support for her father, Olympic gold medalist Bruce Jenner, who has been widely reported to be transitioning into a transgender female. But there's one problem: the 19-year-old Kendall Jenner claims she never said the quotes Us Weekly printed in its article. In fact, she says she never even spoke to the magazine.
She tweeted Wednesday afternoon:
how is it legal for someone to "quote" someone and publish it if in fact you never said what was quoted.

— Kendall Jenner (@KendallJenner) March 18, 2015
Shame on US Weekly for making up quotes. I NEVER said those things. I never spoke to them.

— Kendall Jenner (@KendallJenner) March 18, 2015
The piece, which has the byline "Us Weekly Staff," attributes the following quote to Kendall Jenner, who reportedly shared these sentiments backstage during Comedy Central's Justin Bieber Roast this past Saturday night:
"I love my dad. He's always been there for me and my sisters. He's a wonderful man. And just because he's changing shoes now, so to speak, doesn't make him less wonderful. I will always love my dad, whether he's a man or a woman."
Later in the same article, Jenner is quoted speaking more generally about her "work ethic" and plans to move from modeling to acting. If she is telling the truth when she says she never spoke to Us Weekly at all, then where did all of these quotes come from?
As of 6:40 p.m. ET, more than three hours after Jenner first disputed the quotes, the post remains unchanged on Us Weekly's website. Mediaite has reached out to the publication and will update this post accordingly with their response.
[h/t Time]
[Photo via Instagram]
— —
>> Follow Matt Wilstein (@TheMattWilstein) on Twitter
Have a tip we should know? tips@mediaite.com