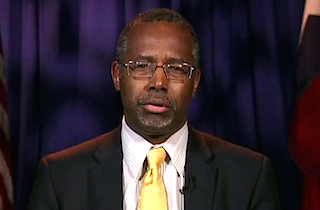 "I don't do ambush interviews," conservative radio host Hugh Hewitt told Dr. Ben Carson at the beginning of their extended discussion Wednesday. But over the course of 17 minutes, Hewitt brought up several topics that seemed to trip up the potential 2016 Republican presidential candidate, including a question about ISIS that led to a unique prediction from Carson.
Asked how he compares the threat of ISIS to that of Iran, along with North Korea, Russia and China, Carson said that the U.S.'s "biggest enemies" are on the Sunni Muslim side, meaning ISIS. But, he added, "there are a number of sponsored terrorist groups that emanate from the Shia, which are based primarily in Iran."
"Right now, they're fighting each other in Iraq, admittedly," he continued. "But in the long run, I think they would gladly unite against us in their attempt to destroy the United States, our way of life, and Israel. And we have to be extraordinarily careful about any alliances with them."
As Hewitt put it, Carson is "unique in positing the prospect of a Shia-Sunni alliance," pointing out, "they are at each other's throats right now, aren't they?"
"There's no question they're at each other's throats, and it's tempting for us to say you know, the enemy of our enemy is our friend," Carson said in response. "But I do not believe that for one second. I believe that they believe that we are evil, and they want us destroyed."
Later in the interview, when Hewitt asked his guest if he thinks NATO should be prepared to intervene if Vladimir Putin tries to invade the Baltic states, Carson said we "need to convince [the Baltic states] to get involved in NATO" first.
"Well, the Baltics, they are in NATO," Hewitt informed Carson. He later used that misstep to question Carson's knowledge on geopolitics, comparing him to Sarah Palin in the process.
Listen to the Sunni-Shia clip below, via The Hugh Hewitt Show:
You can hear the full interview at hughhewitt.com.
[Photo via screengrab]
— —
>> Follow Matt Wilstein (@TheMattWilstein) on Twitter
Have a tip we should know? tips@mediaite.com