Kinky Boots Fires Back at Macy's Parade Haters with Black Friday Shopping Spree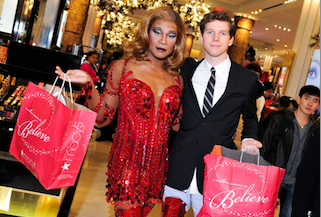 Kinky Boots won the 2013 Tony Award for Best Musical, so of course the show would be one of the four major Broadway shows to perform at this year's Macy's Thanksgiving Day Parade, right? Apparently the show's elaborate performance did not go over so well in parts of the country not used to seeing drag queens dancing in high red leather boots.
The performance received an instant backlash of often-homophobic negativity on social media, helpfully compiled by conservative Twitter aggregator Twitchy. Here's one tweet that more or less sums up the horrified reaction:

Comments on the store's Facebook page included: "Macy's worst decision ever .?.?. you've completely removed the family part of Thanksgiving. Absolutely disgusting" and "Not a conversation I wanted to have with my five-year-old on Thanksgiving morning. NOT COOL!"
Thankfully, the show, led by lyricist Harvey Fierstein, decided to take matters into their own hands the following day by going on a partially-costumed Black Friday shopping trip to Macy's and show the world there's nothing to be afraid of.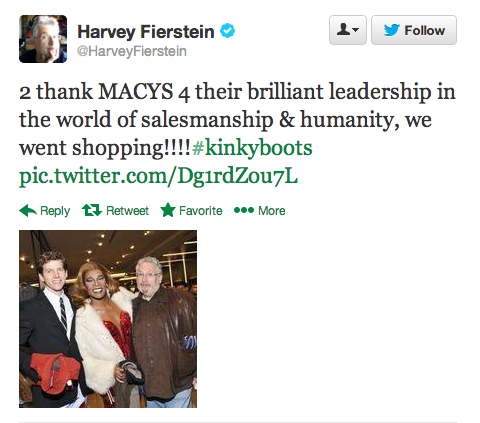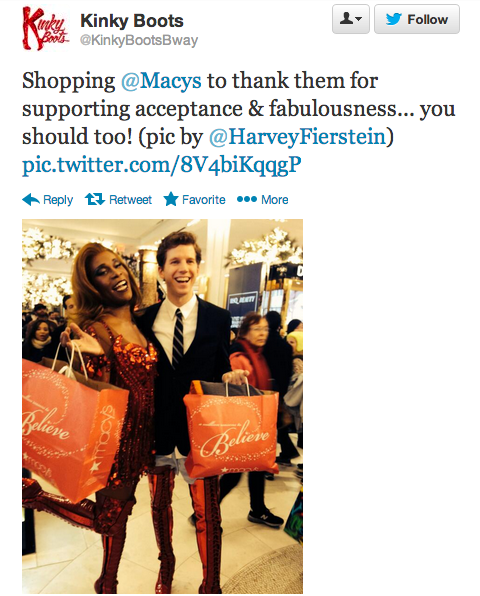 "You have to start a dialogue," Fierstein told Page Six while shopping at Macy's with the show's two stars. "And you can't have a dialogue unless someone says something first. It takes actual work to open up [people's] minds."
Fierstein also commended Macy's willingness to feature his show in a statement to BroadwayWorld.com:
"I'm so proud that the cast of KINKY BOOTS brought their message of tolerance and acceptance to America's parade. Ten years ago I was humbled to ride a float dressed as Mrs. Claus and it was the thrill of a lifetime. Congratulations to Macy's, on leading the world, not only with your salesmanship, but also your humanity."
Watch the full Kinky Boots parade performance below, via NBC, and decide for yourself whether it "ruined the holidays" or not:
[photo via Page Six]
— —
>> Follow Matt Wilstein (@TheMattWilstein) on Twitter
Have a tip we should know? [email protected]