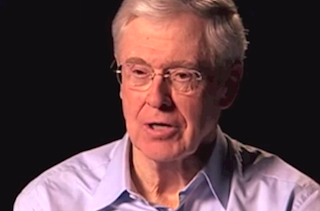 On Monday, The New York Times — and, in turn, Mediaite — reported that billionaire brothers David and Charles Koch had settled on Gov. Scott Walker (R-WI) as their preferred Republican candidate to back in the 2016 presidential election. "We will support whoever the candidate is," David Koch reportedly said at a fundraising event. "But it should be Scott Walker."
Now, however, in an interview with USA Today, Charles Koch has said that their field of potential endorsees is larger than just one. He confirmed that they are actually looking at five candidates who they believe have "a good chance of getting elected: Walker, Jeb Bush, Ted Cruz, Rand Paul and Marco Rubio.
"Those are the ones we have talked to the most and who seem to be the possible leaders," Koch said. "What we've told them all is that right now, we're not supporting anyone. We're telling them that if they want our support, one way to get it is articulating a good message to help Americans get a better understanding and a better appreciation of how certain policies … will benefit them and will benefit all America."
Koch also confirmed that his organization plans to spend up to $300 million on political campaigns in 2016. During the 2012 election, the Republican National Committee raised and spent $400 million. If the Kochs do decide to back a Republican candidate during the primary, it would be the first time the did so in a presidential election.
"Only if somebody really stands out from the standpoint of their message and what they would actually do to benefit America and has a chance a decent chance of being elected, only then would we select one over the others," he said, adding, "We may give several of them some money to get this positive message out."
[Photo via screengrab]
— —
>> Follow Matt Wilstein (@TheMattWilstein) on Twitter
Have a tip we should know? tips@mediaite.com