KY Clerk Who Won't Issue Same Sex Marriage Licenses Has Been Married 4 Times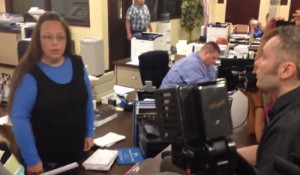 Rowan County Clerk Kim Davis, the elected official in Kentucky who has famously refused to issue all marriage licenses in opposition to the Supreme Court's ruling on marriage equality, has been married four times.
According to U.S. News & World Report, is currently married to her fourth husband. Her first three marriages all ended with divorce in 1994, 2006 and 2008, respectively.
There's also the matter of her children, who have hopped around from one father to the next:
She gave birth to twins five months after divorcing her first husband. They were fathered by her third husband but adopted by her second. Davis worked at the clerk's office at the time of each divorce and has since remarried.
Although U.S. News was the first national outlet to publish the marriage records, the matter is actually a popular topic of discussion among the citizens of Morehead, Kentucky, the surrounding area, and now the national at large:
Davis' divorce records, in the meantime, are a "popular file" at the local courthouse, a woman who answered the phone tells U.S. News, as bloggers and social media users titter with accusations of hypocrisy.

The matter first attracted public attention in July, when WKYT-TV reporter Victor Puente made a passing on-air reference to the fact that Davis' latest marriage certificate shows she was married four times.
According to Mat Saver of Liberty Counsel, the organization consulting Davis on legal matters, none of this really matters.
"It's not really relevant, it's something that happened in her past," said Saver. "She was 180 degrees changed."
The Rowan County clerk's conversion to Christianity only happened four years ago, so much of her past marriages are considered a part of a former life by herself and her supporters.
Even so, the news has left many wondering whether or not Davis has any religious grounds left to stand on since she recently appealed to the Supreme Court for an injunction due to her Christian faith. Said injunction was denied, but Davis still refuses to issue marriage licenses.
[h/t Uproxx, U.S. News & World Report]
[Image via screengrab]
— —
>> Follow Andrew Husband (@AndrewHusband) on Twitter
Have a tip we should know? tips@mediaite.com