Las Vegas Casinos Are Really, Really, Really Rooting For Floyd Mayweather to Beat Conor McGregor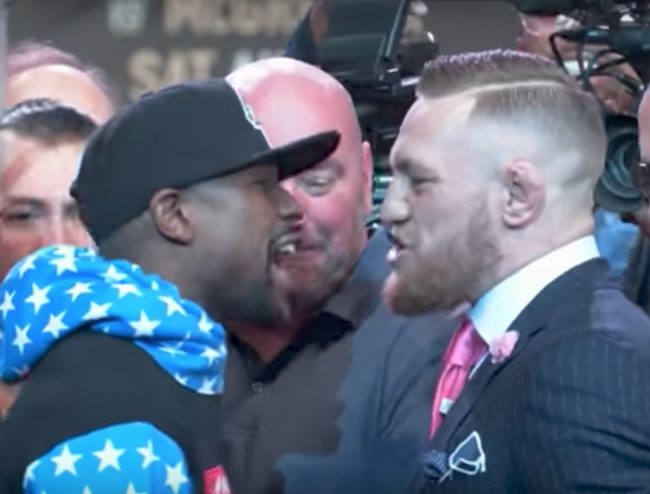 After all the talking, it's fight week in Las Vegas at last.
Boxing star Floyd Mayweather is set to take on mixed martial arts star Conor McGregor in a 12 round boxing match about which few people do not have at least some sort of strong opinion or rooting interest.
Las Vegas casinos are not exempt. In fact, they might be rooting harder than anybody.
ESPN reports that, apparently, almost everyone who's plunked down money on the big fight so far has wagered on Conor McGregor to pull off what would be, should it happen, one of the most shocking upsets in the history of sports.
Jay Rood, vice president of MGM Resorts race and sports, told ESPN that for every person betting on Mayweather, 25 are wagering on McGregor. The current consensus line is Mayweather -475, McGregor +375 — meaning one must wager $475 to win $100 on Mayweather, while a $100 bet on McGregor would win $375.
The sportsbooks are evidently loathe to drop the line much further — out of fear that big bettors will jump on Mayweather. So the majority of the money is on McGregor. And if, somehow, McGregor were to win…
"This could be the worst loss in the history of MGM Resorts," said MGM's Jay Rood.
But the sportsbooks don't seem to mind being exposed on this fight. Speaking to ESPN, South Point Casino oddsmaker Jimmy Vaccaro just doesn't get all the love for McGregor — who's fighting in his first ever boxing match.
"As we know, anything can happen," Vaccaro said. "But truthfully, this thing should be 50-1. To me, it's absurd."
[image via screengrab]
——
Follow Joe DePaolo (@joe_depaolo) on Twitter
Have a tip we should know? tips@mediaite.com
Joe DePaolo - Senior Editor