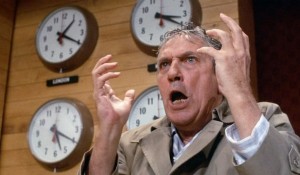 According to a new Gallup poll, Americans don't trust the media all that much anymore.
As Gawker reports, the new poll targeting "Americans' Trust in the Media" suggests only 4 in 10 daily consumers of media — be it via television and print, or online and on their smartphones — do not trust any of it one bit. Even then, those four suckers selected either "a great deal" or "a fair amount" when polled, meaning that some of that trust is best characterized as "fair."
The new numbers tie with the results of similar Gallup polls conducted in 2012 and 2014, thereby making the second decade of the 21st century one of the worst on record for the mass media's ability to earn Americans' trust. Then again, since the polling first began in the '90s, the highest level of trust ever achieved by the mass media was a whopping 55 percent.
Unsurprisingly, more Democrats than Republicans admit to still trusting the media in some way, shape or form. 55 percent of the former still profess great-deal-to-fair faith in the media, whereas only 32 percent of Republicans and 33 percent of Independents still trust the media*.
So how should media professionals take this news, especially when the new poll also suggests that trust in the media has fallen more drastically among American aged "18 to 49 years old" than in the "50 or older" bracket?
On the one hand, you can respond like Gawker, one of many new media outlets closely aligned with the former group, and say "we don't trust you motherfuckers either." On the other hand, you can crawl into a dark room with a television playing 1976's prophetic Network on repeat and cry yourself to sleep.
As for me, I'll just keep writing. Besides, even if you don't trust me, you're still here reading this post about the large number of Americans who happen to agree with you.
Check out the clip above, via MGM.
*Depending on who you ask, Breitbart probably doesn't fall under the umbrella of veritable media, so these numbers could be skewered.
[h/t Gawker]
[Image via screengrab]
— —
>> Follow Andrew Husband (@AndrewHusband) on Twitter
Have a tip we should know? tips@mediaite.com