Laura Ingraham: Colin Powell And Obama 'Coordinated' TV Appearances To Play 'Race Card' On GOP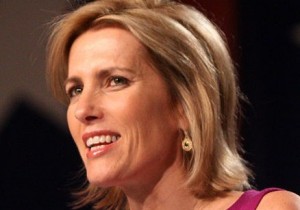 On Tuesday, Laura Ingraham took a closer look at the timing of Colin Powell's Meet the Press interview and President Obama's final press conference of his first term. Noting that they were perhaps "well coordinated," Ingraham said Obama sounded like he was "maybe playing the race card."
RELATED: Laura Ingraham Trashes Colin Powell: 'Liberalism Has Been An Utter Disaster For Black America'
"The more I think about it, the more it seems that Colin Powell's appearance on the Meet the Press was well coordinated with the White House, with his dear friend, with whom he campaigned, Barack Obama," Ingraham asserted.
She went on to add that some people have wondered about the timing of Obama's presser on Monday: "What was so special about yesterday late morning?" According to Ingraham, perhaps it had something to do with the media cycle surrounding Powell's remarks about the GOP on Sunday. "It was directly within the maelstrom of a news cycle driven by Colin Powell's 'dark vein of intolerance' within the Republican Party," she said.
To make her point, she then looked at Obama's remarks, noticing a similarity. Specifically, where Obama said:
"I think there are a lot of Republicans at this point that feel that, given how much energy has been devoted in some of the media that is preferred by Republican constituencies to demonize me, that it doesn't look real good socializing with me."
Here, Ingraham took issue. "When I hear an African-American president make comments about 'They don't like to socialize,' 'They demonize me' — I feel like we're playing the victim card here, maybe playing the race card," she argued.
But it works well with the "Colin Obama" narrative, she added, quipping, "I'd rather have a colon cleanse than to actually have to listen to Colin Powell on the Republican Party."
"What was more coordinated?" she asked. "The Susan Rice testimony on Benghazi, or the Powell appearance on Meet the Press?"
Listen below, via the Laura Ingraham Show:

Have a tip we should know? tips@mediaite.com