Laura Ingraham: Could We See An Alliance Between Gingrich And Santorum? (And Maybe Even Perry?)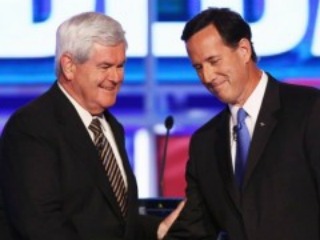 Radio host Laura Ingraham took to her blog today to discuss the possibility of former Speaker Newt Gingrich working with Pennsylvania's Rick Santorum, who very nearly beat out Mitt Romney in Iowa this week. Ingraham offered readers a wee bit of Gingrich fan fiction, showing us how such an alliance might look:
RELATED: Ann Coulter: The Liberal Media Will Stop At Nothing To Screw Up The Republican Primary
Certainly, the two could meet privately and emerge publicly with a smile. When pressed about what they were cooking up, Newt or Rick might say only that "it was a positive and productive meeting." This would fuel further media speculation and perhaps force Romney's team to start attacking both Rick & Newt equally, thus expending more resources. The aura of "inevitability" that has begun to settle over Romney would be shattered. The GOP base would perhaps be less divided and more excited.
But, she adds, "Gingrich has legitimate grounds to make the case that the 53-year-old Santorum should collapse his campaign into his" as a "junior partner," as Gingrich himself phrased it, in this would-be, could-be alliance. But that's only if Gingrich is able to "reboot" his campaign, particularly in the wake of Romney's Super PAC attack ads.
That's left to be seen, of course, especially considering Gingrich has New Hampshire and, more importantly, South Carolina in his sights. (I mean, you tell me, readers: Whether or not Romney is your man, do you anticipate him doing well in South Carolina?)
What's more, Ingraham adds, "for maximum effectiveness, Rick Perry would be invited into this coalition of the unwilling-to-bow-to-Romney and accept the invitation, which seems increasingly implausible."
RELATED: Newt Gingrich On Rick Perry's Gaffe: 'I Wasn't Gloating At That Point'
As Ingraham sees it, such an alliance might not necessarily derail Romney's campaign, but it could end up making Romney more… amenable?… to addressing their specific concerns down the road.
Give her blog entry a read and let me know what you think.
Have a tip we should know? tips@mediaite.com