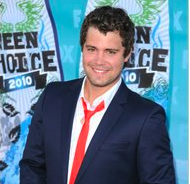 Is Levi Johnston attempting to out-Palin Sarah Palin? That's certainly what it sounds like. US Weekly is reporting that Johnston's much-rumored reality show will actually focus on Johnston making a run for mayor of Wasilla, Alaska…the same place Sarah Palin began her illustrious political career.
The former Playgirl cover model, 20, is running for mayor of Wasilla, Alaska — and documenting it in his reality show, Loving Levi: The Road to the Mayor's Office, the executive producer, Canaan Rubin, tells UsMagazine.com in a statement. "The docu-soap will follow the ever controversial, headline making, matinee idol, handsome father of one as he embarks on a run for mayor of Wasilla, Alaska… [the] series will chronicle a 'no-holds-barred' period in Levi's tumultuous life; co-raising his son Tripp, looking for love, and taking care of business for his fellow Wasillians. He will give us a real inside look into who he is as a father, a skilled hunter, an avid dirt biker, and of course his journey down the road of small town politics — right after he gets his high school diploma."
Also, he is promising to serve out his full term, and you just know that will be in the tag line if it gets picked up. Admittedly, as far as reality TV is concerned, is it a bit of a stroke of genius; most politics feels like some sort of skewed reality show these day, none more than Sarah Palin.
While US Weekly makes the show sound like a done deal, Brian Stelter at the New York Times clarifies that it's still in the pitch stage.
Proposals for television shows are generally not announced until they have a backing of a distributor. Asked why Mr. Johnston's show was publicized ahead of time, Canaan Rubin, an executive producer, said in an e-mail, "That's common to do."

"A pilot is in preproduction and several networks are interested (we knew a few of them would be before the announcement)," Mr. Rubin wrote.

The interested networks have not been identified.

To further gin up interest in the potential show, Mr. Johnston and the producers talked to the Hollywood publication Variety about it this week. In an interview published on Monday, Mr. Johnston "admitted that he wasn't thrilled at first about the mayoral campaign concept," according to the publication.

But he's on board now, and he promises to serve a full term if elected.
Have a tip we should know? tips@mediaite.com