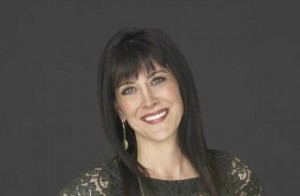 Someone should tell liberal standup comic and host of the progressive Stephanie Miller Show Stephanie Miller that "break a leg" is only a figure of speech. The popular liberal radio host brought her "Sexy Liberal Comedy Tour" to Philadelphia's Walnut St. Theatre Sunday night to kick off the Democratic National Convention week in the City of Brotherly Love, and promptly took a spill right off the stage during the show. Fellow left-leaning comic John Fugelsang stepped in to help Miller, and to finish up the show.
The fall apparently wasn't caught on video, but lots of folks were tweeting about it, including Miller herself, who has been sidelined by the fall, but says that she's okay:
@SMShow Oh Mama, hope you're feeling better. The view from the front row was scary!

— Susan Ilene Johnson (@susanfromphilly) July 25, 2016
@jdeuberry Good to see you as well! @sexyliberaltour rolled on! @frangeladuo & I made sure @SMShow was ok. She's resting now. Back soon!

— Shawn Peirce (@_silversmith) July 25, 2016
Sending healing wishes to Mama @sexyliberaltour @SMShow Thanks to @JohnFugelsang & @frangeladuo for a great show.

— Elayne (laynie) (@laynier) July 25, 2016
@SMShow Stephanie Loiuse Miller! We were supposed to fall for you! Not the other way around! Feel better! Angela has your chocolate.

— Still Tam (@tammy313) July 25, 2016
@sexyliberaltour
Effin' Fantastic Show
We love you @SMShow ?
(Literally #OnEdge) #DNCinPhilly pic.twitter.com/mptmoKUHGL

— Shelley Brown (@ipimi) July 25, 2016
@SMShow sending you gentle hugs & I think we need to start wrapping you in bubble wrap. @JohnFugelsang & @frangeladuo did great filling in

— (((SandyInDerwood))) (@DerwoodS85) July 25, 2016
After Mama took a major fall at Sunday's @sexyliberaltour show, Frangela is stepping up to host day 1 at the DNC https://t.co/8vJYwALjD8

— Stephanie Miller (@SMShow) July 25, 2016

Here's hoping Miller is back up and around soon, and breaking only metaphorical bones.
Have a tip we should know? tips@mediaite.com