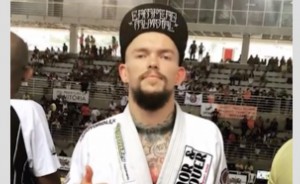 Days after thwarting a potential — if half-baked — terror plot, the Brazilian police is now facing allegations of corruption from a visiting athlete.
Jason Smith, a national jiu-jitsu champion in New Zealand, told the New Zealand news outlet Stuff that he was kidnapped by Brazilian police on Saturday. Smith claims he was pulled over by two officers on motorbikes, told he was violating Brazilian law by driving without his passport, and forced to pay a fine of approximately $600 USD.
But driving without a passport is not a crime for a visitor to the country, something Lee didn't know until after the incident.
"These guys have pulled me over, they have weapons. I'm not in any position to negotiate," Lee told Stuff.
After telling the officers that he didn't have the money, Lee says he was forced to drive the wrong way down a highway to a police bunker, where he was made to switch to an unmarked police car. From there, the three men hit several ATMs and withdrew the cash. Lee was then released, but warned by the officers not to report the incident.
He defied this warning, and now says via Twitter that the Policia Militar, Brazil's military police, showed up at his residence on Monday. He refused to let them in, and he's currently awaiting instructions from the New Zealand ambassador.
Policia Militar have shown up at my apartment unannounced. I have refused them access, called my embassy and we are waiting for Civil Police

— Jason Lee (@jasonleejitsu) July 25, 2016
Locked in our apartment awaiting advice from the NZ ambassador. Policia Militar has now left. Awaiting arrival of Civil Police

— Jason Lee (@jasonleejitsu) July 25, 2016

Lee is not competing in the Olympics, as jiu-jitsu is not an Olympic sport. He's been in the country for a year, living with his girlfriend. Still, this incident raises new questions about Brazilian police conduct with just 11 days left until the start of the Rio Games
We'll update this story as new details become available. 
[image via Facebook/Jason Lee]
– –
Follow Joe DePaolo (@joe_depaolo) on Twitter
Have a tip we should know? tips@mediaite.com
Joe DePaolo - Senior Editor