Rush Limbaugh: Jared Loughner "Has The Full Support Of" The Democratic Party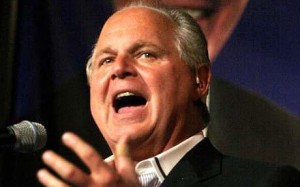 The mugshot of alleged Arizona shooter Jared Loughner really angered Rush Limbaugh today. Not only because Loughner is getting all the attention he wanted, but also because "he's snickering at every one of us in that mugshot." While everyone can agree the photo is disturbing, it's likely few would agree with Rush's actual explanation as to why Loughner is smiling.
Limbaugh theorized:
"What Mr. Loughner knows is that he has the full support of a major political party in this country . . . he knows that . . . the Democrat party is attempting to find anybody but him to blame. He knows if he plays his cards right, he's just a victim. . . . This guy clearly understands he's getting all the attention and he understands he's got a political party doing everything it can, plus a local sheriff doing everything that they can to make sure he's not convicted of murder – but something lesser."
While it's certainly a provocative, and arguably fair point, to claim liberal politicians and commentators are now more concerned with lashing out against America's mean-spiritedness instead of solely blaming Loughner, it loses a bit of its punch when Limbaugh postulates that Loughner is smiling because he is aware of such efforts.
Are Democrats painting Loughner as the victim of a society corrupted by "vitriolic rhetoric" in order to advance their own political ends? Possibly. Is Loughner, someone who Limbaugh himself describes as having no interest in politics, satisfied with or even remotely aware of how his actions are being debated? Who knows what's going on inside the crazed head of Loughner, yet it doesn't seem like commentators on either side will cease from guessing.
Listen to the clip from The Rush Limbaugh Show:

Have a tip we should know? tips@mediaite.com