Limbaugh: Lance Armstrong Would Be Exonerated By Media If He Declared Support For Abortion And Gun Control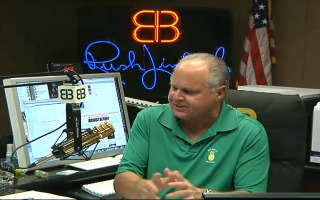 With Olympic cyclist Lance Armstrong set to admit that he abused steroids in an interview with Oprah Winfrey that will air Thursday night, conservative radio host Rush Limbaugh wondered if Armstrong would be contending with the level of media scrutiny that he is now if he admitted that he supports liberal policies. In particular, Limbaugh said that Armstrong would probably be exonerated if he came out and declared that he supports abortion rights and new gun control laws.

"I'm wondering if Oprah thought to ask Lance Armstrong about his position on gun control and whether or not he was pro-choice," Limbaugh disclosed. "Because, you know, a few well-chosen answers by Lance Armstrong and he could be home free."
"All you've gotta do is come out, 'yep, pro-choice all the way, Oprah,'" Limbaugh said. "And get rid of guns? They'd have to embrace him."
RELATED: Rush Limbaugh: Obama Wants To 'Erase Every Trace of Reagan From America'
"What faster way to get back in the good graces of the dominant media culture in this country than to do that?" he opined further.
Limbaugh added that the federal government may join in a whistleblower lawsuit against Armstrong if he comes out and admits he was using performance enhancing drugs. He said that Armstrong would have to be a Republican if the Department of Justice prosecutes him, because they would not pursue a Democrat for similar infractions.
Listen to the segment below via The Rush Limbaugh Show:
[h/t The DailyRushbo]
— —
> >Follow Noah Rothman (@Noah_C_Rothman) on Twitter
Have a tip we should know? tips@mediaite.com