Lindsay Lohan Tweeted Her Fiancé's Alleged Affair, But Now She'd Like You to Stop Talking About It
Lindsay Lohan spent the weekend tweeting about her fiancé, Egor Tarabasov's alleged affair with a "Russian hooker," but now she'd really like for you to stop talking about it. In an Instagram post, Lohan claims the matter has become "more public than [she] can control."
That's all well and good, except that she's the one who made it public. Our cousin site, Gossip Cop reported on Lohan's very public rant over the weekend. She Tweeted, "I guess I was the same at 23… Sh**ty time- it changes at 26/27 @e2505t thanks for not coming home tonight. Fame changes people." She then called him out for being with a "Russian hooker," and closed it out with a Tweet saying "I am pregnant." Gossip Cop took a screen grab of the now-deleted Tweets: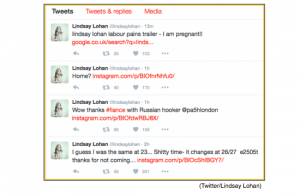 It's been a bad few days for the couple. TMZ reported that Lohan was "leaving town" after her apartment that she shares with Tarabasov was stormed by cops. The officers had responded to a call early Saturday morning that there was a "woman in distress" at the residence, but no arrests have been made. It looks like they may be trying to work it out, and we're all for privacy, but perhaps Lohan should have thought about it a bit more before she live-tweeted her relationship troubles.
Follow Dana Eisenberg (@danaeisenberg) on Twitter.
Have a tip we should know? tips@mediaite.com