Funny? Fair? Forgettable? Republican Ranking of The Late Night Comedy Shows!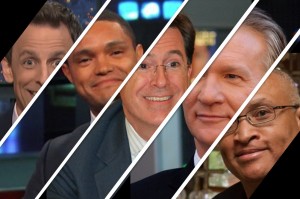 Many complain about the lack of diversity in late night television, with critics typically bemoaning the lack of female comedians or hosts with minority backgrounds. However, rarely do such critics complain about the fact that literally every late night host either leans liberal or screams liberal.  I might strangely be alone in thinking that some diversity in political beliefs amongst comedy talk show hosts would also be beneficial to the viewing public, but until that time arises, we have to work with what we've got.  Therefore, without further ado, let's get to my ranking of the best and worst of the late night talk shows and hosts, from the perspective of a right-leaning viewer.
The rankings below are based on how each show covered the Republican National Convention.  Of course, all the hosts mercilessly mocked Donald Trump and the Republican party, but what separates the great shows from the garbage ones are vastly different levels of creativity, humor, mean-spiritedness and condescension.  Conan O'Brien skipped being political last week to focus on Comic-Con, so he won't be ranked, but nine other hosts weighed in and I've grouped them into three categories.  The first tier of shows is "insightful and hilarious," the second tier is "mindless and impartial," and the third tier is "unwatchable and sanctimonious."  Here we go:
Category 1: Insightful and Hilarious! Must Watch Full Episode!
1. Real Time with Bill Maher
2. Last Week Tonight with John Oliver
3. The Daily Show with Trevor Noah
I may be overstating it, but Bill Maher's show is not merely the best talk show, it's also one of the most important, insightful and entertaining shows anywhere on television.  Yes Maher thinks Trump is evil, yes he basically thinks most (possibly all?) Republicans are horrible, but despite his personal beliefs, he regularly welcomes conservatives on as guests and grants them a completely fair and uncensored opportunity to argue their case.  What makes this so unique is that true debates are encouraged and Maher seems genuinely interested in learning about why Republicans think the way they do and seeing if he can attempt to burst through "the bubble" and convince them to change their mind.  Most importantly, Maher is always funny and one of the rare hosts who takes legitimate comedic jabs at Hillary Clinton and others on his side, proving to be a fearless equal opportunity offender who never predictably toes his party's line.
In nearly a tie for second place, both John Oliver and Trevor Noah are nicely filling the shoes left behind by Jon Stewart, who until last week I thought was sorely missed (more on that below).  Noah definitely started out shaky, but based on last week's coverage of the convention alone, I'd argue his version of the show is now severely underrated.  Noah's opening Stewart-esque monologues were really funny all week and he also featured a laugh-out-loud "documentary" about Trump's life story narrated by Rosie O'Donnell.  Meanwhile Oliver is killing it with his format-defining show, and just last night probably had the best, most thought-provoking takedown of Trump I've heard from anyone, as he comically alleged how ludicrous it is that Trump's campaign is basically based entirely on feelings and with a disregard for facts.
Yet despite such stinging attacks from Maher, Oliver and Noah towards Republicans, these three hosts launch the assault with such charm, wit and smiles that for me at least, even if I don't agree with them, I thoroughly enjoy their presentation.
Category 2: Mindless and Impartial! Watch Just Viral Clips Online!
4. Jimmy Kimmel Live!
5. The Tonight Show Starring Jimmy Fallon
6. The Late Late Show with James Corden
It's hard to say anything negative about the infectious fun Jimmy Kimmel, Jimmy Fallon and James Corden provide to their respective shows.  However, it's also hard to say that you must clear your schedule to watch the shows in their entirety.  In covering the GOP convention, Fallon unleashed his spot-on and very funny Trump impression, Kimmel sent a crazy man-on-the-street reporter to the convention hall to conduct enjoyably weird interviews and Corden expertly "plagiarized" David Letterman's Top Ten list as an homage to Melania Trump.  All light and good-natured fun, but without any of the insight viewers receive from Category 1 shows and without any of the hidden anger towards half of the country seeping out of Category 3 shows.
Among these three hosts, I personally give the slight edge to Kimmel, since he tends to be funnier (given he doesn't have the crutch of being a talented impressionist or singer), while Fallon's bits tend to consistently be the most crowd pleasing.  Yet Corden is fast on the rise, and in this writer's opinion, his ascension to replace the Category 3 Stephen Colbert couldn't come soon enough.
Category 3: Unwatchable and Sanctimonious! Avoid At All Costs!
7. The Nightly Show with Larry Wilmore
8. The Late Show with Stephen Colbert
9. Late Night with Seth Meyers
We get to the bottom rung and already I'm feeling a little regret about lumping Larry Wilmore into this category.  Make no mistake, his show is unwatchable, but mainly because it's just lazy and not funny.  His opening Stewart-esque monologue mixed with video clips is consistently done much better by Oliver and Noah. And his roundtable discussion with guests is nowhere near as funny or interesting as Maher's similar format. So ultimately Wilmore might mean well, but with the glut of shows covering the same news every day, my response to The Nightly Show is just "nah!"
My real bone to pick is with the final two hosts Stephen Colbert and Seth Meyers. I'll readily admit if you are a serious liberal Democrat, you probably disagree with my opinion here, however, for anyone else, Colbert and Meyers regularly come across as smug, know-it-alls who lecture rather than entertain.  Especially last week, in covering the GOP convention, their disdain not only for Trump, but Republicans generally was on full display.  At least Colbert stepped aside twice in favor of a genuine comedic bits: a perfect Melania Trump impersonator and a venom-spewing, occasionally funny, possibly memory-ruining Jon Stewart rant.  Yet the most painful segments of the entire week were Meyers' "Closer Look" segments.  These poorly written, poorly assembled and poorly recited bits were laugh-free, mean, and utter wastes of time. I can only remember once laughing during all of Meyers' bits, calling Ben Carson a brain surgeon and a brain donor. Otherwise why anyone with a brain would tune into Colbert or Meyers boggles my brain, when Category 1 hosts Maher, Oliver, and Noah are just one channel flip away.
Matt Schneider is lawyer/comedian. Follow him on Twitter @SchneiderFactor or check out his self-proclaimed "hilarious" videos at SchneiderFactor.com.
This is an opinion piece. The views expressed in this article are those of just the author.