Guess What Happened When a Crying Baby Was Seated Inches From a Hungry Lion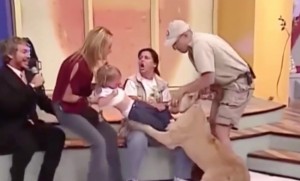 A morning show segment on live television in Mexico went slightly off the rails when a live f*cking lion tried to casually eat a child and people did NOT respond appropriately to the situation.
On the show Con Sello de Mujer — which I believes translates to "Devouring Human Children Live" — a wild lion was, for some reason, brought out onto the set and seated just inches from a toddler. As soon as the child begins to slightly whimper, the primitive killer instincts of the animal kick in and it lunges for its prey:
Remarkably, the people on the show react with the relative calm of a spilled cup of coffee. Only difference here being, you know, THE BABY WAS ALMOST MAULED ON NATIONAL TELEVISION BY A VICIOUS KILLING MACHINE.
"Tranquila! Tranquila! Tranquila!" says one of the animal's handlers. I'm not fluent in Spanish, but I'm pretty sure that means "Quiet," or "I drank so much Nyquil before coming on air that I'm lazily responding to a horrific tragedy in real time like it's no big deal."
The Ryan Seacrest-esque host to the left continues holding the microphone to his mouth as the incident unfolds, ready for his big moment, and the child's mother appears to laugh off the incident like it's a normal day. At least one of the trainer's had the sense to remove the lion from the show, proving Donald Trump correct when he once said of Mexicans "…and some, I assume, are good people."
Excuse me while I calm my blood pressure and cease hyperventilating.
—
J.D. Durkin (@jiveDurkey) is an editorial producer and columnist at Mediaite.
[image via screengrab]
Have a tip we should know? tips@mediaite.com