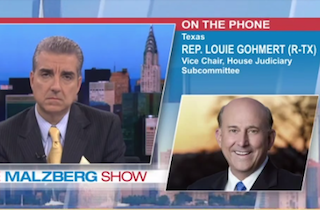 Ahead of President Barack Obama's trip to Texas this week, Rep. Louie Gohmert (R-TX) spoke to Newsmax host Steve Malzberg, making his feeling known about the border crisis that is seeing increased numbers of immigrants entering the United States. Gohmert implied that Obama is allowing the influx to happen in order to increase the number of people who will vote Democratic in the coming elections.
Gohmert argued that "all it would take" to stop in the increase in immigration would be to deport some of those who have entered illegally back to their home countries, something he said the law requires but the Obama administration has been reluctant to do.
"Our schools cannot handle this influx, we don't even know what all diseases they have," Gohmert said. "Our health care systems can't withstand this influx." He predicted the country is headed towards "bankruptcy" if the issue is not addressed in a timely fashion.
Asked by Malzberg to "get inside the mind" of Obama and explain why he is allowing this to happen, Gohmert said it all comes down to politics.
"In the end, they have said that they want to turn Texas blue, they want to turn America blue," Gohmert said of Democrats. He said Obama was aiming to bring "hundreds of thousands or millions of people" into the U.S. and "give them the ability to vote."
Gohmert predicted Democrats would inform undocumented immigrants, "If you want to keep getting the benefits, you have to vote, and President Obama's lawyers are not going to allow them to ask for an ID, so go vote or you're going to lose the benefits you're getting now."
"That drives people to vote and it will ensure that Republicans don't ever get elected again," he concluded.
Watch video below, via Newsmax:
[h/t RWW]
[Photo via screengrab]
— —
>> Follow Matt Wilstein (@TheMattWilstein) on Twitter
Have a tip we should know? tips@mediaite.com