Lucasfilm Denies Report They May Digitally Recreate Carrie Fisher in Future Star Wars Films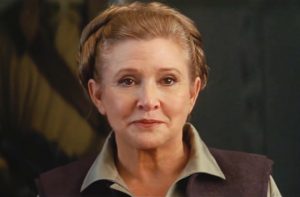 Filming for Star Wars Episode VIII was completed before Carrie Fisher died last month, and as her family, friends, and fans grieve, many have been wondering how the franchise would address her passing.
One recent report said that Lucasfilm is considering digitally recreating Fisher's likeness, but Lucasfilm actually issued a statement tonight denying it:
We don't normally respond to fan or press speculation, but there is a rumor circulating that we would like to address. We want to assure our fans that Lucasfilm has no plans to digitally recreate Carrie Fisher's performance as Princess or General Leia Organa.

Carrie Fisher was, is, and always will be a part of the Lucasfilm family. She was our princess, our general, and more importantly, our friend. We are still hurting from her loss. We cherish her memory and legacy as Princess Leia, and will always strive to honor everything she gave to Star Wars.
Digital recreating dead actors is a very touchy subject, and one that the Star Wars franchise dealt with just last month with the release of Rogue One.
(ROGUE ONE SPOILERS BELOW)
The makers of Rogue One did everything they could to link the film to A New Hope, considering the events of the film take place shortly before the original, and that included digitally recreating the late Peter Cushing to bring back Grand Moff Tarkin.
Considering that Cushing died in 1994, there was a lot of online debate about the ethics of bringing him back.
But the other big digital recreation in the movie was of Princess Leia too. Leia appears in the final few seconds of Rogue One and Fisher's young likeness was digitally utilized for the impactful moment.
The people involved in the production of the film have defended both choices. Industrial Light & Magic's John Knoll said recently that Cushing's estate was fine with their decision, and Fisher herself had no problem with it:
"This again is something we wouldn't have done without her permission and blessing," Knoll said. "She knew about it. [Lucafilm President] Kathy Kennedy managed the relationship with Carrie, so I didn't talk with her directly about it. But [Fisher] saw a work in progress, saw a finished result, and she loved it. Kathy called me right after she showed it to [Fisher] and said how fantastic she thought it was. So she was very much in favor of it."
A recent report said that there were meetings set for this week to "discuss options" about how to proceed with Episode IX following Fisher's death.
[image via screengrab]
— —
Follow Josh Feldman on Twitter: @feldmaniac
Have a tip we should know? tips@mediaite.com
Josh Feldman - Senior Editor