Maher Tears Into Churchs' Tax-Exempt Status: We're Being Forced to 'Subsidize a Myth'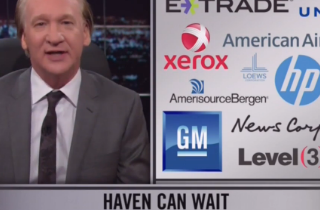 On tonight's Real Time, Bill Maher listed off quite a few new rules. He was definitely in a take-no-prisoners type of mood, but once the jokes were over, it was time to get serious as hell, if you catch my drift
. The big rule was all about churches no longer getting to go tax-free.
#NewRule: Now that it's April 15th, taxpayers must call out all the deadbeats who ride for free, including this one: pic.twitter.com/FVsHmHKBAv

— Real Time (@RealTimers) April 16, 2016
"Now that it's April 15," he said, "all U.S. taxpayers must call out the deadbeats who ride for free, which includes giant corporations like GM and United Airlines, which this year are going to pay no taxes."
When the crowd booed, he sarcastically said, "How brave of you." Then, he threw up a few photos of various examples of the 300,000 churches and temples who go untaxed, saying they, too, should pay taxes. Maher went on to quote scientology founder L. Ron Hubbard, who claimed the only way to make money in this world was to start a religion. Churches have plenty of money, but don't have to pay taxes, he explained.
Finally, he stated that atheists and agnostics are now the second-largest group when it comes to theological thought in America. He lamented, "Almost a quarter of us are being forced to subsidize a myth we're not buying into!"
Watch above via HBO.
[image via screengrab]
For more from Lindsey, follow her on Twitter.
Have a tip we should know? tips@mediaite.com