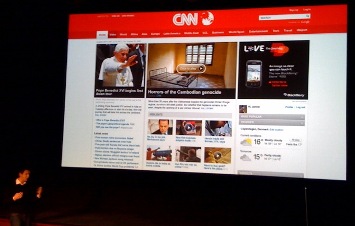 Last night we got a sneak peek of the new CNN.com at "The Unveiling" in the Time Warner Center theater. The site launches Monday, and looks very different from the current product.
The main takeaway – video, video, video.
From the main page and beyond, video appears with the frequency of images on the new CNN.com. In fact, in many cases the videos look like images, until you scroll over the image and see a play button. We talked to KC Estenson, the charismatic 30-something SVP of CNN.com, who presented the site earlier in the evening. "Our stories are often told through video, so that was something we set out to pay off – to have a homepage, have section fronts, have article pages that put that front and center," he told Mediaite.
"All the video will be embeddable…we totally rebuilt the video player and it's sweet."
The article pages – like one about Mad Men (on next page), provide video as the featured element, and include more video features on the left column to be pulled out for wider viewing. Also, and key for bloggers: "All the video will be embeddable…we totally rebuilt the video player and it's sweet."
CNN.com is a major destination on the web – with 38 million visitors a month, and 1.7 billion page views. But as Estenson said in his presentation, the current form is "largely text-driven and text-orientated."
"In some ways it feels like a machine that spits out breaking news," he said. The new CNN.com was based on five factors: breaking news, video, perspective and analysis, personal relevance, and easy to use.
One thing that helps the perspective and analysis are the partnership deals, expanded to include People and Entertainment Weekly. But the big deal will be with Oprah Winfrey. On November 9, Oprah, CNN.com and Facebook team up for a new media "Oprah's Book Club" moment – sure to drive huge traffic to the site.
Some other features: There's a CNN Challenge game, a Trivial Pursuit-like web game that can be hosted by your choice of CNN personalities, from Robin Meade of HLN to Anderson Cooper. It's updated each week. Also, the site launches NewsPulse in Beta on Monday, which will provide real-time news and video, and searchable results by topic, reporter and much more. It looks like the first step to a truly personal, open news consuming experience online.
One thing that won't be updated at this point is the CNN.com/Live section. "Our live product has got to get better," Estenson said. "We believe in live video online and we believe that's a brand promise at CNN. We will always have live video at CNN. I think that you will see live video be the next thing that we say, 'Alright, is this as good as the CNN brand demands it to be?'"
But with video everywhere else on the site, it will be easy to get lost in the packaged clips, original content and more.
>>> NEXT PAGE: See a couple screenshots of the new CNN.com, and the "Unveiling" promo video
Have a tip we should know? tips@mediaite.com