Male Senators Once Barred Female Colleagues from Senate Pool So They Could Swim Naked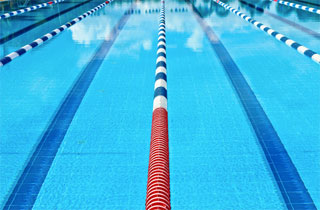 How sexist is the US Senate? So far, only 44 women have ever served as Senators, meaning, according to this Politico article examining the gender imbalance in the upper house, the male Senators think they have the entire place to themselves — including the Senate pool, where they apparently swim with each other while naked.
This mind-searing anecdote comes courtesy of Sen. Kay Hagan (R-NC), who discovered this fact as a freshman Senator in 2008. According to the story, she was told that the Senate swimming pool was males-only, "because some of the male senators liked to swim naked."
A spokeswoman for the Senate gym told a North Carolina paper at the time that the pool was open to everyone, but according to Politico, it seemed to be an informal rule that only exposed penises were allowed to bathe in the cool Senate waters:
It took an intervention by Senator Chuck Schumer, head of the Rules Committee, to put a stop to the practice, but even then "it was a fight," remembers pollster Celinda Lake, who heard about the incident when the pool revolt was the talk among Washington women.
From the reports of female Senators, sexism is pretty rampant in the Senate: Sen. Kirsten Gillibrand (D-NY) once recounted how a colleague (probably Sen. Daniel Inouye) once told her to stop losing weight, as he liked "chubby" women. Other current and former Senators told Politico that the problem extended far beyond Gillibrand's tale.
Nevertheless, there is one important fact we have learned today: if there have been only 44 female Senators in the history of Congress since 1787, that leaves 1,906 male Senators who have likely viewed the penises of their esteemed colleagues at some point.
[h/t Gawker]
[Image via Shutterstock]
—
>> Follow Tina Nguyen (@Tina_Nguyen) on Twitter
Have a tip we should know? tips@mediaite.com