Man Down Launches Website Highlighting The Many Ways Women Are Superior To Men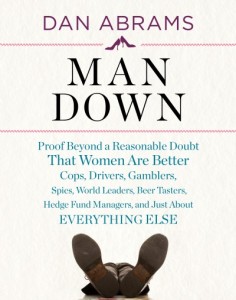 Perhaps you've heard, Mediaite founder Dan Abrams has a new book coming out next month that outlines the many ways that women are better than men. In advance of that book being published, Abrams has launched a new website that was recently highlighted by the fine folks at Glamour.com. In the interview with the "Smitten" blog, Abrams reveals some interesting background on his upcoming book, descriptively titled Man Down: Proof Beyond A Reasonable Doubt That Women Are Better Cops, Drivers, Gamblers, Spies, World Leaders, Beer Tasters, Hedge Fund Managers, and Just About Everything Else, Abrams combs through the abundance of research documenting how women excel in various areas – from business to relationships to life.

ManDownNews.com launched today, curating the webs veritable treasure trove of new articles about women and their unequivocal awesomeness. He explained his motivation for writing such a book to Glamour.com:
Why write this book? Let me be clear, I am not an expert on women and would never claim to be but the evidence that women are dominating men in so many areas is overwhelming. Every lawyer wants a good case and I felt the evidence was clear and convincing (as we like to say in the law), often underreported, and it should certainly serve as a wake up call to us men.
You've likely known for a while now that women are better than men at a lot of things, like handling stress, leading successful companies, and dancing competitively for extended periods of time. But it's helpful to have a resource highlight all the myriad research and articles and op-ed pieces documenting the many ways in which the female of the species conquers, dominates and excels over her male counterpart. (Not that I'm biased or anything. I'm on the side of smugness science.)
Professional woman and Mediaite's own Frances Martel also had a hand in putting the book together, helping Abrams navigate through his research.
And, hey. It's ok to be jealous.
Have a tip we should know? tips@mediaite.com