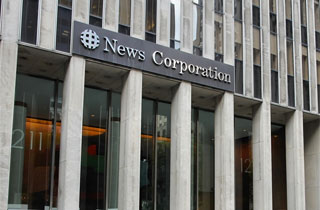 A shooting reportedly occurred this morning outside of the News Corp building in Manhattan, home to Fox News, the Wall Street Journal, and the New York Post.
According to the Post herself, the victim was found around 9 a.m. ET with wounds to his chest, slumped outside the building, with a small-caliber handgun next to him. The injuries may have been self-inflicted.

The man was rushed to Bellevue Hospital and is said to be in critical condition.
The Post also reports that the man wore "a beige jacket, blue jeans and sneakers –- with a pair of gloves resting on his lap."
No further details were provided.
UPDATE — 10:44 a.m. ET: NYPD confirmed in an email to TPM that the man has died from his injuries. They also confirmed the wounds were "self-inflicted."
UPDATE — 11:15 a.m. ET: The WSJ reports that the man was Phillip Perea, 41, of Irving, Texas, who had previously worked for a Fox affiliate in Austin, Texas.
Shortly before the tragic incident, Perea posted a final chapter to his YouTube series documenting "bullying" by management at Fox 7 Austin.
UPDATE — 1:25 p.m. ET:
In a staff-wide memo provided to the Huffington Post, Fox Television Stations CEO Jack Abernethy wrote: "This morning, a former employee at FOX 7-KTBC (Austin) committed suicide outside FOX Television Stations' (FTS) headquarters in New York City," Abernethy wrote. "He was employed at our Austin television station for ten months and has not been with the station or FTS since June 2014. We are deeply saddened by this tragedy."
[NYP]
[Tupungato / Shutterstock.com]
— —
>> Follow Tina Nguyen (@Tina_Nguyen) on Twitter
Have a tip we should know? [email protected]