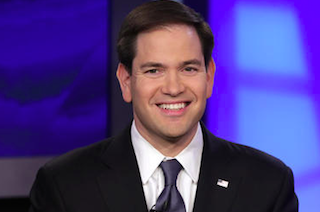 In just three weeks, Sen. Marco Rubio (R-FL) has managed to rise from seventh place in a Fox News poll of potential Republican presidential candidates all the way up to number one. In the latest version of the poll, released Thursday, Rubio leads the field with 13%, more than any other name on the list.
For the poll conducted April 19-21, after Rubio's official announcement on April 13, Gov. Scott Walker (R-WI) is a close second with 12%, Sen. Rand Paul (R-KY) is third with 10%, Jeb Bush and Mike Huckabee are tied at 9% and Sen. Ted Cruz (R-TX) has 8%.
The shift in the still-tight field is dramatic given that the previous poll, taken on March 29-31, found Walker on top with 15% and Rubio in seventh place with 8%. Over those three weeks, Walker and Bush both dropped three points, Huckabee and Cruz both dropped one point and Paul gained one point. But no other candidate could compete with Rubio's five point jump. The biggest drop belongs to Dr. Ben Carson, who went from third place at 11% to eighth place at 6% over the three weeks.
On the Democratic side, Hillary Clinton is still the runaway winner, as expected, going from 61% to 62% over that same time period. In distant second place, Sen. Elizabeth Warren (D-MA), who insists she is not running, went from 11% to 12%. And in third, Vice President Joe Biden dropped from 12% to 9%.
Also of note in the poll: how the "dynasty" factor will effect both Bush and Clinton. In Bush's case, likely voters see his relation to previous presidents as a disadvantage by a 58-34 percent margin. But for Clinton, it is almost the exact opposite with respondents calling her marriage to former President Bill Clinton an advantage, 52-39 percent.
See the full poll results at foxnews.com.
[Photo via screengrab]
— —
>> Follow Matt Wilstein (@TheMattWilstein) on Twitter
Have a tip we should know? tips@mediaite.com