Mark Levin Scolds O'Reilly For 'Bible Thumpers' Remark: 'You Sound Like Obama!'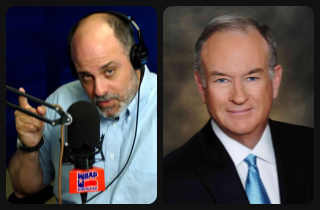 Last night on his radio show, Mark Levin tore into Bill O'Reilly for the Fox host's Tuesday evening assertion that opponents have no compelling argument aside from "thumping the Bible." Levin clearly took issue with such a characterizing, rebuking O'Reilly as having "misled" his audience into believing he actually cares about issues of morality, faith, and tradition.
After rolling tape of O'Reilly and Megyn Kelly discussing their belief that same-sex marriage opponents haven't articulated a "compelling" argument outside of Bible-thumping, Levin asked, "Have I thumped the bible once? Have I thumped the bible once in one-and-a-half hours?"
He then tore into O'Reilly personally, asking the Fox host why he seems to put down his own faith: "You're a practicing Catholic, have you heard what your priests have to say, all the way up to the Pope?"
– RELATED: Limbaugh Goes After O'Reilly For 'Marginalizing' Audience By Calling Gay Marriage Opponents 'Bible Thumpers'
Levin continued: "Why are you putting down your audience? I thought you stood for the 'folks'. You sound like Obama with your 'Clinging to your guns and Bible' line."
He accused O'Reilly of "mischaracterizing and degrading" the opponents of same-sex marriage; and suggested the Fox host has deceived his audience into believing he's an ardent opponent of "secular progressivism."
"Those people in your audience who you put down as 'Bible thumpers,' I bet they feel misled by you and your books and your monologues," Levin concluded.
Listen below:
[h/t
RightScoop
]
— —
>> Follow Andrew Kirell (@AndrewKirell) on Twitter
Have a tip we should know? tips@mediaite.com