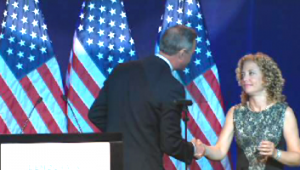 In the fight to stay relevant in an otherwise irreverent political race, Democratic presidential candidate Martin O'Malley spoke out against his own party and GOP front-runner Donald Trump in Minneapolis on Friday.
The former Maryland governor and Baltimore mayor took the stage at the Democratic National Convention event long after Hillary Clinton spoke, and he decided to trade veiled attacks on Bernie Sanders for direct condemnations of the Democratic party itself.
"We need debate!" he shouted, before asking the crowd, "What are we afraid of?" According to POLITICO, O'Malley then compared the Fox News Republican debate to a "reality TV show" and pressed his own party about its lack of debates:
"While the Republicans put their backwards ideas forward before an audience of more than 20 million Americans. We put our forward-thinking ideas on the backburner…and try to hide them from the airwaves."
Nor did he stop his self-criticisms there:
"How does this help us tell the story of the last eight years of Democratic progress? How does this promote our Democratic ideas for making wages and household incomes go up again and not down?" O'Malley said to applause. "How does this help us make our case to the people? One debate in Iowa. That's it? One debate in New Hampshire. That's all we can afford?"

"Is this how the Democratic Party selects its nominee?"
O'Malley then insulted Trump with a somewhat novel combination of words:
O'Malley calls @realDonaldTrump: a "hate-spewing carnival barker."

— David Catanese (@davecatanese) August 28, 2015
Needless to say, DNC Chairwoman Debbie Wasserman Schultz was none too pleased:
Debbie looks PISSED. — David Catanese (@davecatanese) August 28, 2015
Schultz made sure to express her "appreciation" of O'Malley's comments onstage with a rather awkward handshake and an exemplary death stare:
@Sam_Frizell @danmericaCNN "Thank you, Martin O'Malley." pic.twitter.com/Slj3U35NOL

— DJ Judd (@juddzeez) August 28, 2015
Well we're talking about O'Malley, so it looks like he accomplished everything he set out to do at the DNC event in Minneapolis.
UPDATE–4:03 p.m. EST: Here's video of O'Malley's speech, via C-SPAN:
[h/t David Catanese/Twitter, POLITICO]
[Image via Twitter]
— —
>> Follow Andrew Husband (@AndrewHusband) on Twitter
Have a tip we should know? [email protected]