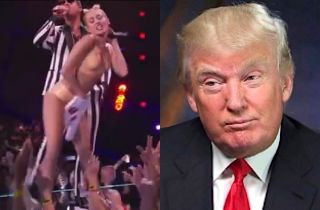 Just when you thought you could safely forget all about Miley Cyrus' foam-finger wielding 2013 twerking at the VMAs, Cyrus brought it back just in time for the next one this Sunday.
Cyrus spoke with The New York Times yesterday, where she talked about everything from the shock value of that show to her new role as show host. Cyrus said in the interview that she wasn't even aware of she firestorm her performance created at first, but one of the first people who pointed it out was apparently a fan of hers. That fan is 2016 presidential candidate Donald Trump.
Cyrus said that she was doing a studio session with Kanye West after the show, and that he called her the next day to tell her to turn on her TV. "I was staying at the Trump Hotel," Cyrus said, "and Donald Trump literally called and said, basically, 'I know everyone's talking about it, but I loved it.'"
Cyrus also used a great deal of the interview to discuss how she became a global phenomenon with her raunchy show. "Even people around me really judged me. People that I really loved and thought were my friends judged me for it," Cyrus said. "They were like, 'You were on drugs when you did that performance.' I did nothing! I still don't get it."
Cyrus hopes that she will be able to bring back the energy of the VMAs, saying that it will be "psychedelic" and "raw" now that she's running the show.
[h/t Entertainment Weekly]
[image via screengrab]
Have a tip we should know? [email protected]