Matt Damon: If You Wanted to Film Movie in a Trump Building, 'You Had to Write Him In a Part'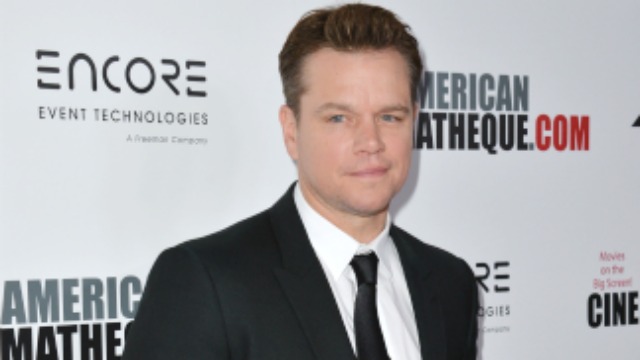 Matt Damon sounded off on both President Trump and Charlottesville in an interview yesterday about his new movie Suburbicon.
Damon actually brought up Trump in the Hollywood Reporter interview during one of the questions about the George Clooney-directed film:
Do you take a character like that home with you?

No. As a younger actor, I did that — you spin your wheels a lot. I heard Anthony Hopkins once say that the older he got, the more refined his process became and he wasted a lot less energy. It's not that you're working less, it's just that you're working more efficiently. But you are available to what's happening around you. The last monologue in the movie was [shot] the week of the election, and the shock of Trump winning — everyone, the people who voted for him and the one's who didn't, experienced this incredible "Oh my God, he won!" So there was something in the air, that rage. George and I talked about it, and that's the third rail we were trying to touch in that scene.
Damon took a few shots at Trump during the campaign at his MIT commencement address when he asked, "How come we have to be in the reality that Donald Trump becomes the Republican nominee for president?"
Well, in the reality where Donald Trump is President, Damon thinks Trump's "many sides" comment about Charlottesville was "absolutely abhorrent."
He even applauded his mortal enemy Jimmy Kimmel for his fiery response to Trump's Charlottesville remarks.
And while Damon has never met Trump, he did say that in order to film in a Trump building, you had to give him a small cameo:
The deal was that if you wanted to shoot in one of his buildings, you had to write him in a part. [Director] Martin Brest had to write something in Scent of a Woman — and the whole crew was in on it. You have to waste an hour of your day with a bullshit shot: Donald Trump walks in and Al Pacino's like, "Hello, Mr. Trump!" — you had to call him by name — and then he exits. You waste a little time so that you can get the permit, and then you can cut the scene out. But I guess in Home Alone 2 they left it in.
[image via Featureflash Photo Agency / Shutterstock.com]
— —
Follow Josh Feldman on Twitter: @feldmaniac
Have a tip we should know? [email protected]
Josh Feldman - Senior Editor