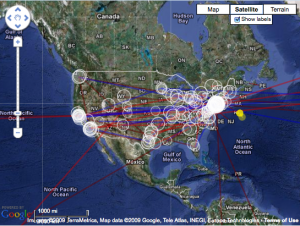 Our Mediaite Migrant Map of Moves has really been taking off, with tons of readers mapping out their journey from city to city over the past decade on our interactive, embeddable and growing map, with new features being added every day by its creator, "Wayback Machine" columnist Philip Bump. Bump has been semi-maniacally tweaking it in response to reader response (example: Adding "Brooklyn" as a city to satisfy a user who wanted to register her borough-love – special hipster exception!), and the map is going off the charts with moves from and to New York, D.C., Albuquerque, Orlando, Seattle, Atlanta, Ann Arbor, Buffalo, Los Angeles, San Francisco, Raleigh, Dallas, Princeton, Athens, Baton Rouge, Minneapolis and Silicon Valley, plus Paris, Stockholm, Sydney, Santiago, Istanbul and even Tehran and Baghdad. It's actually becoming a pretty incredible document, and really nice to see how far-flung our Mediaite readers are! We'd love to have all of you — so add yours!

GO TO THE MAP!
To inspire you until then, please enjoy these map-and-migration-and-distance-and-time-themed songs to complement your Mediaite-Mapping experience. Thanks for playing!
Maps – The Yeah Yeah Yeahs
If you listen closely, you'll know that Karen O. is telling you to put your Decade of Moves on the Mediaite Migrant Map. Shhh, she'll tell you.


Where Will I Be (365 Days From Now) – Lutricia McNeil
Phil Bump said this song was an affront to his eardrums, but I don't care, I love it – a decade ago, it got me through a breakup by reminding me that everything can and will change over time (I think I may have first heard it while living in Stockholm, which exposed me to very different top 40-type music). I hadn't thought about it in years but Phil's map reminded me. If you just got dumped, allow it to serve as a gentle, tuneful balm. If you just dumped someone, well then, just be nice.


Movin' Out – Billy Joel
The ultimate moving song. Can't you just see Anthony backing out of his driveway in a staion wagon, off to a better life? Who needs a house out in Hackensack? Is that all you get for your money? Etc. etc.


Vacation – Trailer ("Holiday Road")
That made me think of "Holiday Road" from Vacation. Oh, that poor dog. Here's the song.
Have a tip we should know? tips@mediaite.com