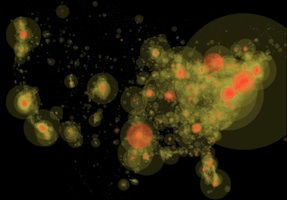 This is pretty neat: the New York Times has put together a visualizer that geographically maps out NYTimes.com's traffic over the course of a day. To make things even more interesting, the day they picked was June 25, 2009 —  the day Michael Jackson died. The flaring map to the left roughly captures the moment that TMZ.com reported his death.
The Times' Nick Bilton explains just what's being visualized over on the Bits blog:
The circles indicate two things. First, the yellow circles represent readers coming to the main Web site from desktop or laptop computers, and the orange circles indicate readers using mobile phones to access our mobile site. Second, the size of the circles represents the number of readers at that moment in time. You can see the corresponding time stamp in the upper left corner of the videos.
Bilton's full post on the significance of the map is worth the read.
A few notes: it's no great surprise that the Times' readership is highly concentrated in the Northeast, but the large amount of black, empty space at the heart of the map stands out by contrast. Low population density combines with lower web connectivity combines what must be less love for the New York Times to produce a void.
The West Coast also has a rather less robust visual presence than one might expect, even taking the three-hour time difference into consideration. Also interesting: throughout the day, there's a steady orange glow coming from the bottom middle of the map, around what appears to be Dallas. Who would've thought that so many D-towners are avid NYTimes.com mobile readers?
(via Bits)
Have a tip we should know? tips@mediaite.com