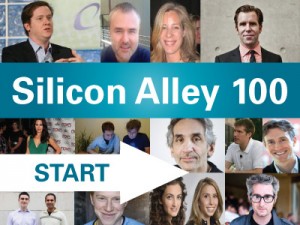 There is a well accepted axiom to any Top 100 list that the most important spots are not numbers 1 through 10, but rather numbers 74 and 94 truly hold the most power, charm and dashing good looks. And nowhere is this more obvious than this year's version of Silicon Alley Insider 100, a monthly list of the top movers and shakers from the New York city tech scene. Clocking in at number 74 is Mediaite founder Dan Abrams, followed closely at 94 by Mediaite Editor-at-Large Rachel Sklar. That's right, 2% of the 100 most important tech people in the city are on Team Mediaite!
Silicon Alley Insider sets up their Top 100 list:
It's been an awesome year for New York City tech.

From the explosive growth of Foursquare, to the increasing influence of new-media power-houses like Gawker and Huffington Post, to the booming sales of Gilt Groupe, AppNexus, Buddy Media, MediaMath, and many others, to the further development of a vibrant angel and VC community, the city's tech-media foundation continues to get stronger.
If one were to take a broader look at the accomplishment of Mr. Abrams, one might add a full suite of websites that is currently earning over 7 Million monthly uniques (including syndicated content) according to Quantcast. Which is an even more impressive number when one considers that this was mostly accomplished in less than a year. All of this makes the coveted spot of #74 make total sense.
As for Ms. Sklar, what else can we say about the digital personification of both smarts and charm. If only we could get her to one day come out of her shell and share her thoughts. Like Dan, Rachel is a repeat honoree, and when the SAI Hall of Fame gets erected, she will certainly be enshrined in that virtual space as well.
Read the entire listing at SAI. Congrats to Dan, Rachel, and the editors at Silicon Alley Insider who earned a free promotion by including us on your list. Well played SAI, we expect payback during our end of the year Mediaite 50 list. You hear?
Other honorees from the Media sector include:
* Alan Meckler, WebMediaBrands
* Anil Dash and Michael Wolf, Activate
* Bess Levin, Dealbreaker
* Bob Bowman and Joe Inzerillo, Major League Baseball Advanced Media
* Dan Abrams, Mediaite
* David Carr and Brian Stelter, The New York Times
* Eric Hippeau, Greg Coleman, Arianna Huffington, Huffington Post
* Erick Schonfeld, TechCrunch – acquired by AOL
* Geoff Bartakovics, Tasting Table
* Glenn Beck and Christopher Balfe, The Blaze
* Jason Liebman, Howcast
* Jonah Peretti and Jon Steinberg, BuzzFeed
* Lewis D'Vorkin, Forbes
* Lockhart Steele, Curbed
* Nick Denton and Gaby Darbyshire, Gawker Media
* Patrick Keane, Associated Content – acquired by Yahoo!
* Rachel Sklar, Mediaite
* Ran Harnevo, 5min Media – acquired by AOL
* Rufus Griscom, Babble
* Scott Dadich, Conde Nast
* Stephen Colvin and Tina Brown, The Daily Beast
* Strauss Zelnick, Zelnick Media
* Tim Armstrong, AOL
* Warren Webster and Brian Farnham, AOL Patch
Have a tip we should know? tips@mediaite.com