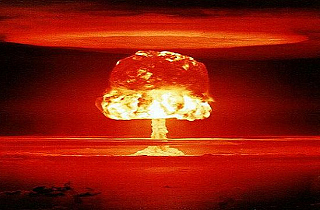 Every a.m., Mediaite publishes a primer of what the interweb machine is writing, talking, tweeting, and blogging about, so that you may fool friends and family into thinking you are a trove of information and insight. Today: The Senate's nuclear fallout, everyone remembers John F. Kennedy, and other random news bits to start your weekend.

Nuclear Fallout of the Day: "After filibuster vote, both parties will face nasty 'nuclear' fallout" (Washington Post Editorial Board)
WaPo's editorial board comes out against the filibuster rule changes pushed through the Senate by Democrats on Thursday. "The Democratic majority was justified in its grievance but not in its rash action," the paper wrote. "American democracy is that much poorer as a result."
JFK Remembrance: "As It Happened: AP Wire Copy of the JFK Assassination" (The Atlantic)
Truly amazing to view how reporters transmitted information about an earth-shattering breaking news event like JFK's assassination at a time when Instagram, Twitter, Facebook, the Internet, wireless devices, email, etc., did not exist. Check out a collection of the AP's typesetter bulletins as the shooting happened and became a national news story.
Today's 'Remember the Whole Middle East Thing?': "BBC Report Confirms Iranian Soldiers Are Running The Show In Syria" (Michael Kelley, BusinessInsider)
A new BBC report includes footage proving that Iran's involvement in the Syrian civil war goes beyond just a little bit of military support. According to the report, the Iranian regime is doing everything it can within its power to make sure Assad stays in power.
Controversial Read of the Day: "What's the problem if a boy wants to put on a dress or girls act masculine?" (Jill Filipovic, The Guardian)
"The trappings we put onto gender identity – the colors, the clothes, the assumed preferences – are all cultural, not natural," Filipovic writes fro her latest installment in her "Gender and Other Agendas" series. Cue disgust and confused outrage from social conservatives.
Must Watch Video: "Like a Rolling Stone" (Bob Dylan)
From Mediaite to Mashable to Mother Jones to the burger joint Shake Shack — pretty much everyone had good things to say about this groundbreaking interactive music video from the legendary bard. If you haven't watched it yet, do yourself a favor and do so before heading into the weekend.
——
>> Follow Andrew Kirell (@AndrewKirell) on Twitter
Have a tip we should know? tips@mediaite.com