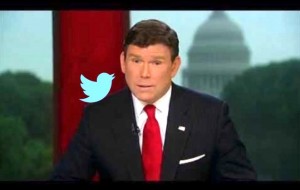 Bret Baier is not unlike many other hosts in political television; after a tough hour of the days' top stories in politics, the election, and the world beyond, Baier likes to wind his show with a fun viral video worth a giggle or two.
I personally don't even trust a TV host who can't have some fun with goofy web content.
Enter the Bad Lip Reading phenomenon, which released its newest must-see creation recently parodying Ted Cruz's RNC speech. It's accrued millions of views online, and as with all of the BLR videos, is a goofy light-hearted jab to inject some levity, this time featuring the prominent speech Cruz made in Cleveland. Baier played a clip of it at the conclusion of his show Thursday, an innocent gesture for a laugh.
But Linda Marie Lovison hates your gesture, Bret Baier.
Lovison, who goes by the Twitter handle @lilo623, slammed Baier on Twitter with a vicious blow right to the special reports:
@BretBaier that was particularly vile. #shameonyou

— Linda Marie Lovison (@lilo623) August 4, 2016
A quick visit to Lovison's Twitter page  — which boasts 14K followers and has Tweeted out 64.3K times — rewards you with the following bio:
Christian mom ~ I hope to encourage you so you will live a life of #victory ~ #JesusIsLord #GodBlessYou♥ Followed by wonderful people including Senator Ted Cruz
You catch that last bit? Following by Ted Cruz on Twitter? In fact, Lovison's feed is filled with pro-Cruz notes as sweet as machine gun bacon. That, and Bible verses. So many Bible verses.
Bret Baier saw Lovison's criticism, and quickly offered an apology to the offended:
Ok thanks. Sorry you don't like the bad lip reading videos. Thanks for watching. https://t.co/H6pIWHaWul

— Bret Baier (@BretBaier) August 4, 2016
#Shameonyou Bret? More like #LightenUpLinda. It's a comedy video that made your already insufferably goofy favorite Republican slightly less cringeworthy. It's a feat of magic by the crew behind Bad Lip Reading, and Baier shouldn't have to apologize to anyone for ending his show with a laugh. After all, the man sat through a stiff interview with the sitting Secretary of Defense that aired earlier in the same program; so I say kick back with a cigar and a few YouTube videos, Bret. You deserve it.
—
J.D. Durkin (@jiveDurkey) is an editorial producer and columnist at Mediaite.
[image via screengrab]
Have a tip we should know? tips@mediaite.com