Romney Makes Billy Crystal Oscar Joke Real: Has 'Great Friends That Are NASCAR Team Owners'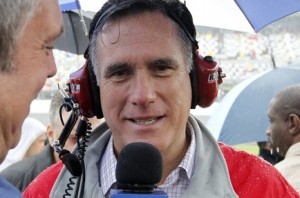 One of the more uncomfortably true jokes at last night's Oscar telecast was Billy Crystal's "aren't we rich" crack that he and his fellow stars should team up and buy the Dodgers. In a visit to the Daytona International Speedway on Sunday, presidential hopeful Mitt Romney unintentionally provided an extra punchline for Crystal's joke, telling a reporter that while he's not an ardent NASCAR fan, "I have some great friends that are NASCAR team owners."
The conspicuous display of wealth during a time of economic hardship was a recurring theme of Billy Crystal's at last night's Academy Awards, including this joke, in which he cajoled the front row to chip in and buy the Dodgers. "George (Clooney), you can still play. I can still play. If we own, we play!"
During an appearance at the Daytona International Speedway that seems to have been engineered specifically to generate some populist, NASCAR-ish optics Sunday, former Massachusetts Gov. Mitt Romney, still smarting from his recent pair 'o Cadillacs gaffe, told an AP reporter that he didn't follow NASCAR "as closely as some of the most ardent fans. But I have some great friends that are NASCAR team owners."
Well, what are you waiting for, Gov. Romney? If you own, you drive!
As if that wasn't bad enough, The New York Times reports that Romney also mocked NASCAR fans' no-frills raingear:
Mr. Romney's Florida trip might have seemed like an odd, if confident, detour from states that will be voting on Tuesday. But Michigan has an ample share of Nascar fans. And the campaign hoped that images of Mr. Romney at the speedway would circulate widely through the Southern states that vote on March 6.

But the crowd initially booed Mr. Romney, who occasionally struck a discordant note, as when he approached a group of fans wearing plastic ponchos. "I like those fancy raincoats you bought," he said. "Really sprung for the big bucks."
At least he didn't start flicking quarters at them.
Should it matter to voters if Mitt Romney can't connect with NASCAR fans? No, and to some folks, that might even be a feature, not a bug. But like John McCain's inability to remember how many houses he owned, during the 2008 campaign, this could stick to Romney, especially since it feeds a preexisting narrative.
(h/t ThinkProgress)
Have a tip we should know? tips@mediaite.com