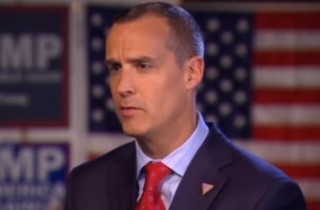 The Daily Beast spoke to more of Trump campaign manager Corey Lewandowski's former co-workers, who confirmed previous reports that Lewandowski was abusive and sexist while he worked for Americans for Prosperity.
Politico reported last month on a series of questionable actions Lewandowski took while at AFP, including bragging about threatening to blow up a co-worker's car, hitting on female coworkers, and calling one a "c**t" in front of several other employees. The Daily Beast confirmed much of the thrust of the Politico piece Friday morning, this time with former AFP employees willing to go on the record.
The employees who worked with Lewandowski describe being "flabbergasted" when they heard he had landed a position as campaign manager of a major campaign. "He was just a condescending, nasty brutish boor" said one former subordinate.
That man, former AFP Ohio regional field director Pat Maloney, said that Lewandowski regularly used profanity and berated employees for no reason, saying he was yelled at for taking time off to attend to his ill grandma. "My grandmother is literally dying, having last rites administered and I get a call from Corey chewing me out, asking who the hell did I think I was missing this conference call."
Maloney added that Lewandowski reserved special animus for his female co-workers. "There was definitely a misogynistic streak to this guy," he said.
Another female co-worker recalled a time Lewandowski went on a crude tirade because she also missed a conference call. "Corey gets on the phone and defames my character. He called me incompetent, called me a loser," Lisa Bast said. "He called me a f**king b**ch, yelling, 'I am going to fire your f**king ass!'"
"Typical Corey," said an anonymous former AFP employee when asked about Lewandowski's pending battery charge. "It didn't surprise me. That's not atypical at all."
[Image via screengrab]
——
>>Follow Alex Griswold (@HashtagGriswold) on Twitter
Have a tip we should know? tips@mediaite.com