MSNBC President Tells Fan That Shuster "Was Not Moral, Ethical Or Professional"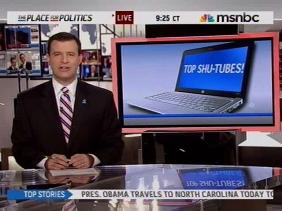 The only public statement about David Shuster's suspension from MSNBC was five words from a spokesperson.
But Mediaite has obtained an email from MSNBC President Phil Griffin to an angry fan, explaining in slightly more, and much harsher, detail the reason for Shuster's indefinite suspension.
Here's the full email from Griffin, sent last night to a fan:
From: Griffin, Phil (NBC Universal)
Sent: Wed 4/07/10 11:16 PM

Sorry, but this is a business and I need team players. He was not moral, ethical or professional and that is not fair to the 500 people who work at msnbc.

Thanks for your note,
Phil
This was meant to be a private correspondence, but it is interesting to see the President of a network so freely respond to someone who was upset about a host's punishment.
It also sheds some more light on the severity of what MSNBC believes took place – separating Shuster from the "team players" and calling him "not moral, ethical or professional" are serious charges.
Here is part of the email Griffin responded to:
To: Griffin, Phil (NBC Universal)
Sent: Wed Apr 07 23:04:29 2010
Subject: David Shuster

I am a political junkie who works at home, and I watched MSNBC 24/7 until October 2008 when I
could no longer bear to watch Morning Joe. (Never mind that Joe is a boorish oaf who mentions the 1994 Congressional class every 7 seconds — what I could no longer stomach was the vacant Mika sitting self-consciously beside him, nodding obsequiously. How retrogressive that she now is dressed like June Cleaver.)

Your "suspension" of David Shuster makes it necessary for me to boycott MSNBC, which is slowly but surely going the way of Fox "News".

I will miss Countdown and parts of Maddow's show, but I refuse to watch MSNBC ever again. It is a hideous embarrassment and an indictment of your judgment that you have Pat Buchanan on every daytime show and some of your evening programming.
> Update: Just to clarify, we have confirmed the email's authenticity.
—–
» Follow Steve Krakauer on Twitter
Have a tip we should know? tips@mediaite.com