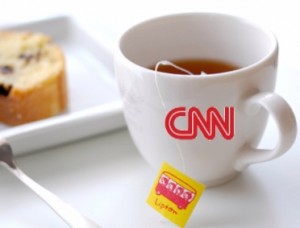 A few days ago, I took a look at a Crooks and Liars post that suggested CNN was "pimping" the Great American "Tea Party Express PR and Propaganda Tour." While I agreed with much of the post, I didn't think CNN's motivation was to promote the Tea Party tour, but rather, to be in the right place at the right time when something juicy happens.
As it turns out, reporting by conservative Newsbusters seems to confirm elements of liberal Crooks and Liars' thesis, or at the very least, that CNN is trying to have it both ways. Let's all sing "Kumbaya" for a minute.
Update: Newsbusters removed the key email from its post. Screenshot after the jump.
Newsbusters credits CNN for what it considers to be "one of the first to offer fair coverage of the Tea Party movement outside of Fox News," while bringing up the infamous Susan Roesgen report from a Tea Party last year.
At the same time, they wonder why CNN is pushing the story so hard to conservative blogs, illustrating this with emails from CNN's PR department. This one was reportedly sent to Michelle Malkin:
"Hi there, I thought this might be an interesting post for you- a behind-the-scenes piece about the Tea Party and how the stereotypes don't tell the full story. Let me know if you need anything else!"
There's nothing all that sinister here. This kind of email is pretty standard PR promotion.
However, this next email, sent to Brent Bozell of Newsbusters parent Media Research Center, sets up a decidedly non-neutral, us-vs.-them dynamic betweeen CNN and "the left:"
"Clearly our critics from the left don't think we should be covering the Tea Party movement in the way we are and clearly CNN thinks it's a legitimate and important story.

If anyone from Newsbusters is interested in this angle – let me know."
This sort of email might be perfectly fine coming from Fox News or MSNBC, but it flies in the face of CNN's self-appointed role as the last bastion of non-partisan journalism.
Update: Reading the comments, I noted that Newsbusters removed the key email to Brent Bozell from its post. Luckily, I saved the page. Here is a screengrab of the passage in question, as it appeared when this story was published. I will try to find out why it was removed.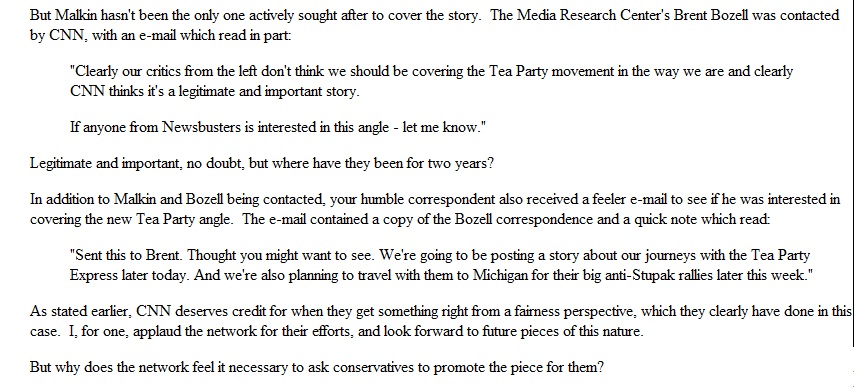 Have a tip we should know? [email protected]