MTV is Doing Away with 'Gendered' Awards Because … Nothing Makes Sense Anymore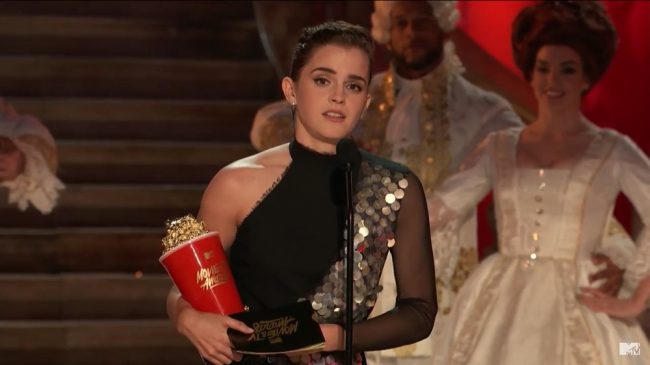 MTV not only rebooted its annual MTV Movie Awards by adding TV awards this year, but took the supposedly progressive move of eliminating male and female as separate categories from its best acting awards in movies and TV.
This year, those who participated in the voting for the awards chose two British actresses — Emma Watson for her lead role in "Beauty and the Beast," and teenager Millie Bobby Brown for her acting in the Netflix series "Stranger Things."
"Acting is about the ability to put yourself in someone else's shoes and that doesn't need to be separated into two different categories," Watson said after accepting the best acting award for movies.
The irony, of course, is despite Disney's "updating" of Belle for the live-action adaptation, Watson's character falls into an archetype that is quite traditional — a damsel in distress who ultimately has a fairy-tale ending.
Fans picked Watson from a calculatedly diverse group that included two white men (Hugh Jackman in "Logan" and
James McAvoy in "Split"), one black woman (Taraji P. Henson for "Hidden Figures"), one black man (Daniel Kaluuya for "Get Out"), and one mixed-race woman (Hailee Steinfeld for "The Edge of Seventeen").
Watson wasn't even the most "diverse" candidate on the standard "diversity" roster. To drive home our new genderless reality, MTV had "Orange is the New Black" star Asia Kate Dillon, who "identifies as non binary," present the award to the Watson.
The Harry Potter actress, who considers herself to be a "feminist," predictably touted the network's move.
"The first acting award…that doesn't separate nominees based on their sex says something about how we perceive the human experience," Watson claimed.
BBC spotlighted on Monday that Watson's acceptance speech had plenty of detractors from both left and right. Piers Morgan ripped the actress in a Daily Mail column.
"Every time I hear actress – sorry, gender-equal actor – Emma Watson pontificate in public these days, I die just a little bit more," Morgan said.
The former CNN host used Watson's speech as a launching point to attack the "gender neutral" concept: "I come from the increasingly unfashionable school of thought that says there are just two genders: male and female. They are wonderfully similar and compatible in many ways, and very different in others."
Morgan's point is especially valid in the movie/TV field, where male and female distinctions are integral to the most memorable roles — for example, Charlton Heston as Ben Hur; Louise Fletcher as Nurse Ratched in "One Flew Over the Cuckoo's Nest;" Jodie Foster as Clarice Starling in "Silence of the Lambs;" and Russell Crowe as Maximus Decimus Meridius in "Gladiator."
There's no doubt that the entertainment industry is shamelessly left-wing. However, one would hope that, given the enormous popularity of movies like "Beauty and the Beast," where gender can't be written out of the plot, that they would continue to produce movies and TV shows where the differences between men and women aren't neutralized and/or set aside.
[image via screengrab]
This is an opinion piece. The views expressed in this article are those of just the author.