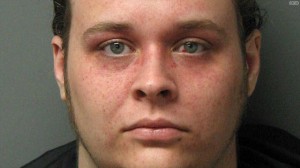 It's the question mark at the end that really makes this magic, we think. Was it a mouse? Was it stuck? Was it stuck there? It is truly a human centipede of haphazardly sewn-together mysteries and enigmas.
HLN host Nancy Grace's site presents visitors with a "Mugshot of the Day." Today's photo involves a burglary gone either terribly wrong or terribly right depending on what your own personal goals and dreams might be.
Here's the description:
Noah Smith, a 24-year-old South Carolina man, was charged with resisting arrest, 1st and 3rd degree assault and battery charges, and indecent exposure.

According to the incident report, a resident called police to complain of a burglar. When authorities arrived, the said they found Smith naked in the victim's home with a USB-powered computer mouse in his rectum, according to reports from WCSC.
Oh, there's more:
When deputies arrived, they found Noah Smith, 24, lying face down and naked inside the doorway of the victim's home, the report stated.

When the deputy tried to make contact with Smith, he slapped the deputy. In return, the deputy deployed his taser, which had no effect on Smith, the report stated.

With reinforcements, deputies approached Smith again in the victim's bedroom. A deputy managed to handcuff Smith before he jumped off the victim's bed and tried to kick other deputies in the room, the report stated.

Then, according to the report, Smith was pepper sprayed. Undeterred, Smith continued to kick at the officers and otherwise evade capture. He was struck with a police baton several times, and Smith attempted to bite the deputy.
He was eventually shackled and hog-tied, with officers guessing he "might have been high on mushrooms."
Have a tip we should know? [email protected]