Police are reporting at least four people have been shot outside the iconic Empire State Building in Midtown Manhattan with at least two dead, including one victim and the gunman. NBC News has confirmed that the shooter has been killed at the scene. It is not clear if the perpetrator was killed in a fire fight or took his own life. The shooter has been identified as Jeffrey Johnson, 56, who was let go from his place of employment more than one year ago and returned to his place of work to take revenge on his former employer.
According to CBS News, witnesses heard between five and eight shots outside the building. 10 people were wounded in the mass shooting, but most suffer non-life threatening injuries.
Reuters reports that at least two of the shooting victims have died at the scene. A third is reported to be in critical condition.
First reports of a shooting at 34th street and 5th Avenue in Manhattan were received by the New York City fire department at 9 a.m.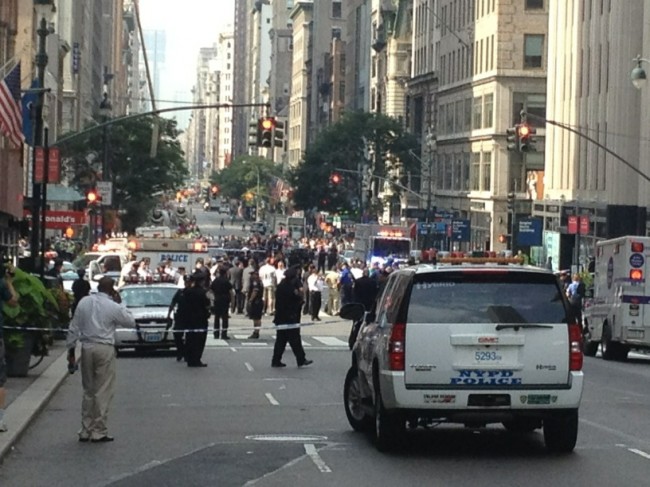 UPDATE: Fox News (who broke the news at 9:24AM) reports that this shooting resulted from a botched robbery and is not a terrorist attack. The shooter was reported to be "shooting indiscriminately" between 33rd and 35th streets while attempting to escape the scene.
UPDATE: NBC News reports that the gunman was a "disgruntled employee" who worked at a business inside the Empire State Building.
UPDATE: The New York Post reports that the gunman was taken down by a New York City Police Department officer on foot patrol. The NYPD would not confirm any more dead beyond the shooter.
UPDATE: Mayor Mike Bloomberg says that only one victim of this morning's shooting is dead and nine more are injured. He says that some victims may have been shot by police as they responded to the ongoing incident.
> >Follow Noah Rothman (@Noah_C_Rothman) on Twitter
Have a tip we should know? tips@mediaite.com