'New Phone Who Dis?:' Twitter Mocks Henry Kissinger's 'Lukewarm' Praise For Jared Kushner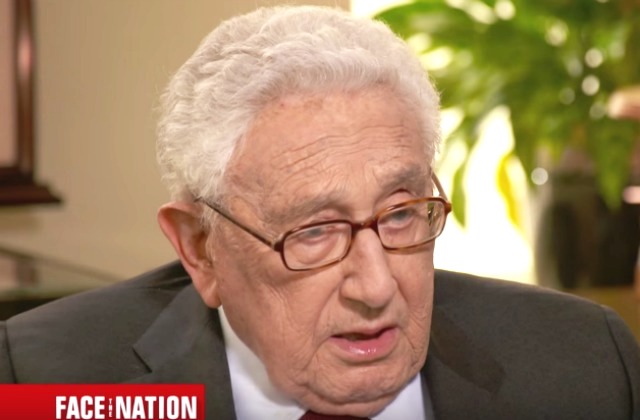 The Time 100 is both notable for the people on the list and the people who write the entries for the people on the list. For example, this year Paul Ryan wrote President Trump's entry, Harry Reid wrote Chuck Schumer's, and John McCain wrote FBI Director James Comey's.
But this year, Henry Kissinger wrote Jared Kushner's and you may very well wonder how well they know each other.
Well… (emphasis added):
This space has been traversed for nearly four months by Jared Kushner, whom I first met about 18 months ago, when he introduced himself after a foreign policy lecture I had given. We have sporadically ­exchanged views since. As part of the Trump family, Jared is familiar with the intangibles of the President. As a graduate of Harvard and NYU, he has a broad education; as a businessman, a knowledge of administration. All this should help him make a success of his daunting role flying close to the sun.
Twitter was somewhat amused:
hilariously lukewarm writeup by Kissinger on Jared Kushner for the TIME 100 pic.twitter.com/mZyrMjIqGW

— Katherine Krueger (@kath_krueger) April 20, 2017
When your professor agrees to write you a reference letter even though you skipped all of his lectures https://t.co/5jWzNOo93G

— Daniel Dale (@ddale8) April 20, 2017
"Jared Kushner: by Henry Kissinger — 'We have sporadically ­exchanged views'" https://t.co/sUkLoug40i

— David Wright (@DavidWright_CNN) April 20, 2017
I have met Jared Kushner, but it was recently.

-Fondly, Henry Kissinger https://t.co/XhvqXF2RIC

— Alex Sherman (@sherman4949) April 20, 2017
"jared kushner is a guy, pretty young…has hair" – henry kissinger

— emotions controller (@pblest) April 20, 2017
The last sentence in Henry Kissinger's piece about Jared Kushner for Time 100 is truly amazing pic.twitter.com/O9H91SKnsY

— Josh Billinson (@jbillinson) April 20, 2017
In which Henry Kissinger lauds Jared Kushner … I think pic.twitter.com/DRweiQLxu5

— Bradd Jaffy (@BraddJaffy) April 20, 2017
I met Jared one steamy night in Istanbul. He stared over the waters by the Bosphorus Bridge and whispered, "White lily." https://t.co/wTxZcjN6XX

— Rick Wilson (@TheRickWilson) April 20, 2017
#ImetJared at daybreak by the Charles. His blazer was covered with drops of dew as if he had stood there all night @therickwilson

— Dee Garretson (@deegarretson) April 20, 2017
Honored that @TIME asked me to write the tribute to Jared Kushner for #Time100 pic.twitter.com/rEHsyiOZZZ

— Jason O. Gilbert (@gilbertjasono) April 20, 2017
Unintentionally hilarious: Henry Kissinger's Time 100 piece on Kushner is just 2 pointless, empty paragraphs https://t.co/sDEhCJ15iq pic.twitter.com/vUrJCzFln3

— Ryan McCarthy (@mccarthyryanj) April 20, 2017
"We have sporadically ­exchanged views since" is the next "new phone who dis?" https://t.co/0nq7r1LeV0

— Ezra Klein (@ezraklein) April 20, 2017
if someone gave me this recommendation i would keep it off my resume and probably question our relationship https://t.co/ANtdHr4ISs

— ಠ_ಠ (@MikeIsaac) April 20, 2017
[image via screengrab]
— —
Follow Josh Feldman on Twitter: @feldmaniac
Have a tip we should know? [email protected]
Josh Feldman - Senior Editor