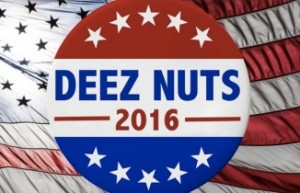 A new poll of Texas voters released Tuesday finds that older, more conservative voters are less keen on voting for "Deez Nuts."
Public Policy Polling (PPP) asked Texans who they supported in a four-way race between Democrat Hillary Clinton, Republican Donald Trump, independent Deez Nuts, and independent Harambe. Trump took 47%, Clinton 38%, Deez Nuts 3%, Harambe 2%,and 11% were undecided.
Harambe was the gorilla who was shot dead at the Cincinnati Zoo in May and was subsequently immortalized in meme form (as helpfully explained by Vox).
Deez Nuts is also a meme, albeit one that filed with the FEC last year to formalize its candidacy for president. The 15-year-old prankster who filed on behalf of Deez Nuts eventually endorsed John Kasich and Bernie Sanders in their respective primaries.
In the PPP poll, Deez Nuts was most popular among liberal and moderate candidates, snagging support from 4% of very liberal voters, 3% of somewhat liberal voters, and 6% of moderates. With conservatives, Nuts only received 1%, and among very conservative voters, Nuts received zero support.
Deez Nuts received zero support from Republicans, whereas 4% of Democrats and 6% of moderates and independents backed him/it.
Deez Nuts received twice as much support from women (4%) as from men (2%). Perhaps unsurprisingly, Deez Nuts fared four times better with those polled by Internet (8%) than by phone (2%).
Finally, Deez Nuts was far more popular with young voters, receiving 8% support from the 18-29 set, 5% from 30-45, 2% from 46-65, and a goose egg from voters over 65.
—
Sam Reisman (@thericeman) is a staff editor at Mediaite.
This post has been updated.
Have a tip we should know? tips@mediaite.com