New Video Shows Planned Parenthood Partner Joking About Shipping Fetus' Heads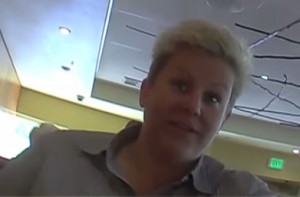 The pro-life group behind the Planned Parenthood sting videos has released yet another video, this one targeting former Planned Parenthood partner StemExpress.
StemExpress is a former partner because the fetal tissue procurement company severed ties with Planned Parenthood after they lost a court battle to keep the newest video from ever seeing the light of day. In the video, StemExpress CEO Cate Dyer can be seen speaking candidly about buying and selling intact fetuses and shipping their heads.
"Oh yeah," says Dyer when asked by an undercover activist if they ever get intact fetuses. "I mean if you have intact cases, which we've done a lot, we sometimes ship those back to our lab in its entirety." The organization behind the videos, the Center for Medical Progress, alleges that because feticide chemicals can't be used in tissue procurement cases, intact fetuses are prima facie evidence of born-alive infants.
Dyer also complained about the cleanliness of many abortion clinics. "We've seen all sorts of things, but yeast contamination… I've seen really rampant, rampant problems with bacteria in some clinics. Some where like you're kind of in question of should they really– I've seen staph [infections] come out of clinics."
She also tells the undercover activists (who were posing as budding procurement experts) that they were in the market for "50 livers a week," and to ship fetuses' entire heads when collecting brain tissue. "Tell the lab it's coming, so they don't open the box and go 'Oh God!'" she joked.
"It's almost like they don't want to know where it comes from…" Dyer says. "And their lab techs freak out and have meltdowns."
At one point, Dyer appears to confirm that fetal harvesting is profitable for clinics. "Do you feel like there are clinics out there that have been burned, that feel like they're doing all this work for research and it hasn't been profitable for them?" she asks one of the undercover activists. "…I haven't seen that either."
Watch via YouTube:
[Image via screengrab]
——
>>Follow Alex Griswold (@HashtagGriswold) on Twitter
Have a tip we should know? tips@mediaite.com