New York Times Hits Back at Trump After Adding Over 300,000 New Subscriptions Last Quarter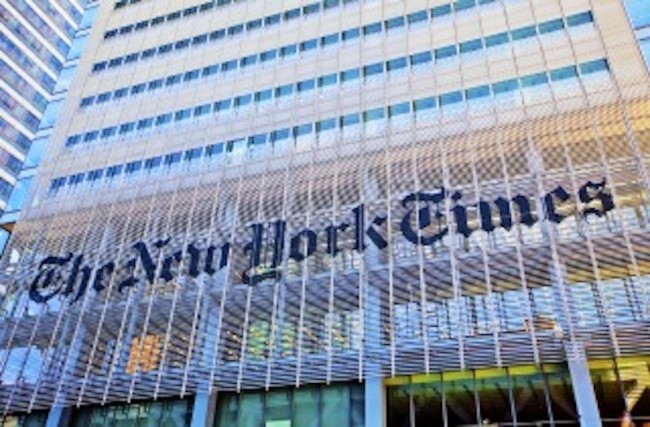 President Donald Trump has taken aim at a number of media outlets and reporters regarding over what he feels is unfair coverage of him. However, outside of maybe CNN, Trump's favorite target has been the New York Times. Since announcing his run for the White House, the president has dedicated dozens of tweets at slamming the Grey Lady.
A few days ago, Trump took to Twitter to once again rip into the paper, this time claiming that their coverage of him had resulted in the publication losing subscribers.
Thr coverage about me in the @nytimes and the @washingtonpost gas been so false and angry that the times actually apologized to its…..

— Donald J. Trump (@realDonaldTrump) January 28, 2017
…dwindling subscribers and readers.They got me wrong right from the beginning and still have not changed course, and never will. DISHONEST

— Donald J. Trump (@realDonaldTrump) January 28, 2017
At that time, the NYT responded to the president via Twitter, providing POTUS with a fact check.
.@realDonaldTrump Fact check: @nytimes subscribers & audience at all-time highs. Supporting independent journalism matters. pic.twitter.com/yzh90y6ih0

— NYTCo Communications (@NYTimesComm) January 28, 2017
Well, earlier today, the newspaper's CEO highlighted the Times' subscription growth on an earnings call while sending a message to Trump. "President Trump was once again busy tweeting this weekend that our audiences and our subscribers were, to use his word, 'dwindling,'" CEO Mark Thompson said. "Well, not so much, Mr. President."
The NYT also posted their numbers, showing they gained more than 300,000 new subscribers in the previous quarter.
The paper reported on Thursday that it added 276,000 new digital news subscriptions in the fourth quarter. That is the best quarter for the Times since 2011. On the print side, The Times added 25,000 subscribers, its best number in six years.

The total number of digital and print subscriptions to the Times has now crossed three million.
So will Trump once again claim the Times is losing readers and "failing" in the near future?
[image via Shutterstock]
–
Follow Justin Baragona on Twitter: @justinbaragona
Have a tip we should know? tips@mediaite.com