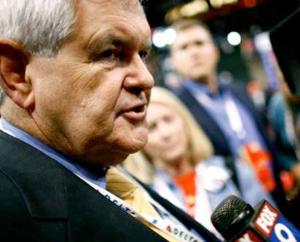 During an appearance on WNYC's The Brian Lehrer Show, Newt Gingrich confirmed his support for New York's Republican Gubernatorial candidate Carl Paladino, claiming that he's "the only choice in the election." Gingrich went on to characterize Paladino's candidacy as a "battle cry" that resonates with the rest of America.
The former Speaker of the House also expressed his pleasure with recent poll numbers, stating that "Carl Paladino is now genuinely competitive with Attorney General [Andrew] Cuomo." Gingrich then went on the explain how Paladino's platform is a "battle cry of cutting spending, reforming Albany, making it harder to raise taxes" and is in accordance with Tea Party sentiment across the nation:
Cuomo represents paying off the government employee unions, more expensive government, higher taxes, and continuing to destroy the New York economy. Albany has drained all of upstate New York. … Carl Paladino represents exactly the Tea Party response, which is to change the capitol rather than change your local business.
And, as many speculate that Gingrich has his eye on representing his party for the 2012 presidential election, he went on to offer his thoughts on the recent Republican "Pledge to America," confessing, "It's not everything I'd like… but it's a very impressive first step."
As the interview came to an end, Lehrer pressed Gingrich to explain why he believes President Obama exhibits "Kenyan, anti-colonial behavior." Gingrich countered:
It's an intellectual argument. I'm happy to say that I believe, intellectually, this is the most radical president in American history. I think that's true.
You can listen to the entire interview below.
Have a tip we should know? tips@mediaite.com