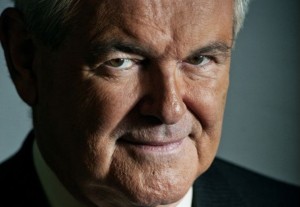 GOP presidential hopeful Newt Gingrich today issued an unofficial reminder that he is, in fact, still running for president. While watching Rick Santorum's suspension announcement, he reportedly started naming off all the candidates which he surpassed in the race for the presidency. According to campaign trail reporter, CBS's Lindsey Boerma, Gingrich is a survivor.
RELATED: Fox News' Brit Hume Asks Newt Gingrich If He Is 'Go[ing] Broke'
Just have a look at her Tweet: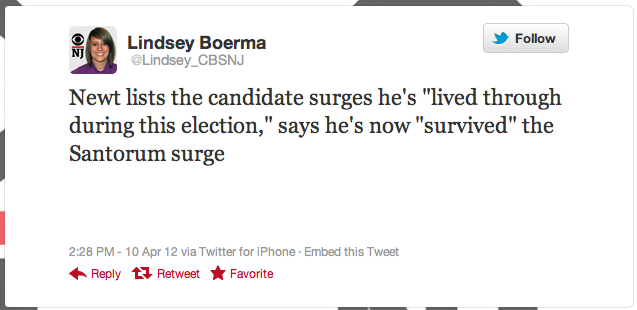 In an official statement, Gingrich shared some praise for his former rival and reached out to his supporters:
Rick has waged a remarkable campaign. His success is a testament to his tenacity and the power of conservative principles.

I am committed to staying in this race all the way to Tampa so that the conservative movement has a real choice. I humbly ask Senator Santorum's supporters to visit Newt.org to review my conservative record and join us as we bring these values to Tampa. We know well that only a conservative can protect life, defend the Constitution, restore jobs and growth and return to a balanced budget.
The whole thing came as quite the shock to Gingrich, who "thought he was going to campaign through Pennsylvania." He goes on to stay that he is excited to finally go to toe-to-toe with Romney as the race continues for the Republican presidential nominee, and he assures us that he's fighting until the end.
Could this be the game changer that Gingrich needed?
h/t Hot Air
Have a tip we should know? tips@mediaite.com