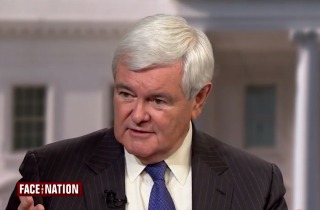 During an appearance on The Sean Hannity Show, former Speaker of the House Newt Gingrich said he was amenable to returning to that role if the votes were there.
Host Sean Hannity pointed out that the Speaker of the House did not have to be a member of Congress. "My question is, maybe this is a time for Newt Gingrich to come back with a flurry of ideas and a new contract that would advance a conservative agenda to help the country solve these horrible problems," he asked. "…Would you consider, if nominated, being the interim speaker?"
At first, Gingrich treated the proposal as a joke. "Look, I can't quite imagine a circumstance," Gingrich chuckled. "Remember the McCarthy problem — it's not getting a majority of the conference, it's getting 218 votes."
"Why are you laughing at my idea?" Hannity asked. "This is a serious proposal."
"I'm not laughing at it. I'm trying to be totally honest with you," Gingrich replied, no longer chuckling. "If you were to say to me 218 have called you up and given you their pledge, obviously no citizen could ever turn down that kind of challenge. This is why George Washington came out of retirement — because there are moments you can't avoid."
"If the House conference wanted me to be helpful in their thinking through how they're going to solve what I think is much more than a personality problem, I would always be available as a citizen to be helpful."
"You show up with 218 votes, I'll talk to you," Gingrich said. "I ain't talking to you if you don't get 218 votes."
Listen above, via The Sean Hannity Show.
[h/t Washington Examiner]
[Image via screengrab]
——
>>Follow Alex Griswold (@HashtagGriswold) on Twitter
Have a tip we should know? tips@mediaite.com