Nobody Dies, But New Priorities Ad Has A Heart-On For Mitt Romney And Paul Ryan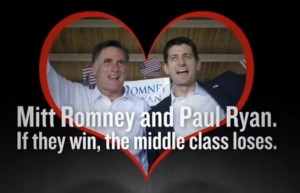 While the Romney campaign is still complaining about the controversial Priorities USA Action ad from 36 news cycles ago (while still pressing their own lies about welfare and Medicare), the pro-Obama SuperPAC has moved on to a new ad attacking Mitt Romney over his remark that interest in his tax returns is "small-minded."
The ad focuses on the less than 1% Romney would pay under running mate Paul Ryan's budget, but visually mocks the duo's "bromance" by placeing the ticket inside a heart graphic.
The Republican presidential candidate chose a strange way to roll out his revelation that he's never paid less than 13% in taxes (without specifying federal, state, sales, etc.), prefacing the announcement with a gratuitous shot at the 63% of Americans who want to see more of Romney's tax returns, calling them "small-minded," then demonstrating that he really believes they're small-minded by not offering any proof of his claim.
Enter Bill Burton's Priorities USA Action, which has been knocking Romney around since before there was even a Republican field. The new ad is short and weirdly sweet, juxtaposing Romney's remarks about his tax returns with pictures of the candidate with his running mate inside a Valentine graphic, as an announcer intones, "under one of Paul Ryan's budget plans, Romney would pay only 1%. That's right. Mitt Romney's worth $200 million dollars, but under Paul Ryan's budget, he'd pay only 1 percent in taxes, while middle class families would pay $1000 more. Romney and Ryan.  If they win, the middle class losses."
Rather than continuing to press Romney to release proof of his tax claims, which he will not do, this attack focuses on just who stands to gain from the addition of Paul Ryan to the ticket, a small voting bloc called Mitt Romney and Friends. From Bill Burton's press release:
Priorities USA Action today released a new ad responding to Mitt Romney's comments on taxes in South Carolina. Even though Mitt Romney already pays a lower tax rate than middle class families, one of Paul Ryan's budget plans would take his tax rate all the way down to 1% while raising taxes on the middle class.

The 30-second spot will run online in the battleground states of Colorado, Florida, Ohio, Iowa, Pennsylvania and Virginia as part of a new project to educate voters about Mitt Romney's devastating impact on middle class families.

"Mitt Romney already pays a lower tax rate than many middle class families, but with Romney-Ryan economics he would pay even less," said Bill Burton, senior strategist for Priorities USA Action. "The Romney-Ryan ticket would not only protect a tax system that already benefits the wealthiest like Romney over middle class Americans, it would be taken from the paychecks of millions middle class families."
Since this is an online-only ad, free airtime from news programs will be crucial to getting their message out, which might explain the "bromance" imagery, ripe for an outraged response from Team Romney.
Here's the ad, from Priorities USA Action:
Follow Tommy Christopher (@TommyXtopher) on Twitter.
Have a tip we should know? tips@mediaite.com